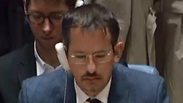 B'Tselem Executive Director Hagai El-Ad
Photo: UN TV
A conference titled "Hebron First" will take place in the Knesset next week calling for the immediate evacuation of the Jewish settlement in the West Bank city.

The conference, organized by Joint List MKs Ayman Odeh and Dov Khenin and Meretz MK Michal Rozin, will feature a speech from B'Tselem Executive Director Hagai El-Ad, who recently spoke at the UN Security Council against Israeli treatment of the Palestinians.

Other invitees to the event on Monday include activists from left-wing groups B'Tselem, Breaking the Silence, Peace Now, Yesh Din and Palestinians from Hebron.

"For 50 years, a handful of settlers living at the very heart of the Palestinian population in Hebron have been leading the government to enact a cruel segregation regime, both physical and legal, on the Palestinian population," the invitation for the conference read.

"Hundreds of soldiers are sent by the government to enforce this segregation, mass budgets are invested in that handful of settlers—at the expense of the public—and the friction between the populations leads to a destructive reality of violence, extreme incidents like the massacre Baruch Goldstein carried out and the Elor Azaria affair, and the loss of human lives—both Jews and Palestinians."

According to Knesset regulations, any conference held at the parliament requires the approval of Knesset Speaker Yuli Edelstein. A year ago, Edelstein sought to prevent MK Aida Touma-Sliman from holding a conference on "50 years of occupation." Because of that, the MKs organizing this event defined it as a "gathering," which the Knesset management cannot prevent.

"The settlement in Hebron is the expression of an extremist government policy that pours mass sums of money and endangers human lives to strengthen and maintain a handful of extremist settlers. The evacuation of the settlement in Hebron is a first and necessary step to promoting a diplomatic solution and bringing the Israeli-Palestinian conflict to an end," the three MKs said in a statement.