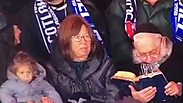 Rabbi Zev Leff reading Gemara during Israel-Scotland match
A Jewish man studying the Gemara during Tuesday's soccer match between Israel and Scotland went viral on various social media accounts.

Since the man was immersed in the holy text, he missed an important goal, the first out of the two Israel scored in the game—although Scotland still won 3-2 in front of home fans in Glasgow.

Immediately after the first goal, the Jewish ultra-Orthodox elderly man was picked up by Sky News cameras. "I think he missed the goal," said the surprised commentator. "He must be reading something very interesting," he added.

The screenshot of the man went viral shortly thereafter, inspiring dozens of jokes and memes on various social media platforms.

"What is Dumbledore doing at the game?" wrote one user, referring to a fictional character in the Harry Potter books; while another user wondered: "Is this not the most Jewish thing you've ever seen?"


Many tried to guess the identity of the Jewish gentleman, who turned out to be Rabbi Zev Leff who hails from Scotland but currently resides in Moshav Matityahu in the West Bank.

Leff apparently arrived in Glasgow to visit his daughter—Rebbetzin Sarah Bodenheim—who heads the organization of all Jewish students in the country alongside her husband.

The rabbi reportedly took his grandchildren to watch the game but was preoccupied with other "very interesting" things during the match.