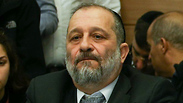 Interior Minister Aryeh Deri
Photo: Ohad Zwigenberg
Deri suspected of tax evasion amounting to NIS 2 million
The interior minister is suspected of fraud and breach of trust, perjury, tax evasion and money laundering in 4 different cases, including the sale and acquisition of properties, and money he received and failed to report to the proper authorities.
Interior Minister Aryeh Deri allegedly committed tax evasion offenses amounting to NIS 2 million.

The Israel Police and the Israel Tax Authority said Tuesday there was sufficient evidence to indict the Shas leader in a number of cases for fraud and breach of trust, perjury, tax evasion and money laundering.

The affair began with a covert investigation by the police and the Money Laundering and Terror Finance Prohibition Authority over suspicions of unusual activity in the bank accounts of Minister Deri and his family members.

Investigators noticed transfers of hundreds of thousands of shekels from businessmen to the minister's family—some before his return to politics and some after.

The first case against Deri deals with the sale of apartments and lands in Jerusalem's Givat Shaul neighborhood owned by the minister to his brother, attorney Shlomo Deri. While the deals were reported to the Tax Authority, they were reported at only 50 percent of their real worth. Tax Authority investigators suspect Deri and his brother tried to evade the full payment of two kinds of taxes—purchase tax and capital gains tax on real estate.

In the second case, Minister Deri is suspected of tax evasion in a deal to purchase a lot in Moshav Safsufa (Kfar Hoshen), in northern Israel. The land owner received NIS 500,000 in cash, the property was listed under Deri's daughter and son-in-law's names, and the sum was not reported to the Tax Authority.

In addition, three contractors who built the Deri family's vacation home on the lot, as well as a handyman who worked on the property, received their pay in cash money, which came from an unknown source. Here, too, the payments were not reported to the Tax Authority.

In a third case, Deri is suspected of failing to report money he received from business elements—to the Tax Authority, the Knesset and the State Comptroller.

The fourth case concerns a NIS 200,000 loan Deri received—when he was not in office as an MK or minister—from businessman Ilan Sharabi. Deri failed to report the loan to the Knesset Speaker and the State Comptroller after being elected to parliament, and did not pay back the loan to Sharabi. When confronted about the matter, Deri explained he "forgot" about it. Later, he intervened in a legal matter to benefit Sharabi's interests.

After the police and Tax Authority announced there was sufficient evidence to indict Deri, the minister's office said in response: "We believe that when the prosecution examines the matter, the suspicions will be lifted, and it would become clear Minister Deri did not break the law."