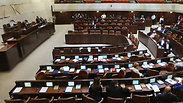 Knesset plenum
Photo: Gil Yohanan
Knesset rejects opposition bill to combat violence against women
Despite failure by the government to present an emergency national plan to fight violence against women, all coalition members, including female MKs who champion social causes, vote against a bill calling for a parliamentary commission of inquiry to examine the matter.
The coalition brought down Wednesday an opposition bill proposal to combat violence against women, despite weeks of extensive public protest against the phenomenon.

The bill proposal was rejected by 59 Knesset members, while 56 supported it.

Among the female coalition MKs who voted against the bill—many of whom promote social issues— were Social Equality Minister Gila Gamliel (Likud), Justice Minister Ayelet Shaked (Bayit Yehudi), Culture and Sports Minister Miri Regev (Likud), Deputy Foreign Affairs minister Tzipi Hotovely (Likud), Kulanu MKs Tali Ploskov, Meirav Ben-Ari, and Likud MKs Nava Boker, Anat Berko, Nurit Koren, and Yifat Shasha-Biton.

Welfare and Social Services Minister Haim Katz also voted against the bill, as well as all other coalition members.

Several weeks ago, the government said it would present a plan within two weeks to eradicate violence against women. Time has passed, and the plan—which was announced in the wake of pressure from female MKs from the opposition and the large-scale public campaign—has yet to materialize.

Meanwhile, MKs Yael Cohen Paran (Zionist Union), Michal Rozin (Meretz), Aida Touma-Suleiman (Joint List), and Aliza Lavie (Yesh Atid) proposed their own bill several weeks ago to establish a commission of inquiry to prevent violence against women.

The opposition bill proposal was formulated in the wake of a series of murders of women, amounting to more than 20 women being killed in 2018 by their spouses and family members.

Initially, the opposition MKs reached an agreement with the coalition chairman to postpone their own bill while the government promotes a national emergency plan to eradicate violence against women within two weeks.

Paran, Rozin, Touma-Suleiman, and Lavie held discussions with the Finance Ministry in an attempt to raise the budget for the emergency plan, but with no success.

"This government has betrayed women by shirking its national responsibility and turning its back on those who need it," Paran said.

"How can the female coalition MKs look the orphans in the eyes? What are they going tell them? That this issue (of violence against women) was not dealt with because political games got in the way?" she accused.

"This is a new low of a government that is morally bankrupt. The opposition will not abandon the women who need us," she vowed.

"I'll turn to the state comptroller to review the government's failure and to assist in promoting a national emergency," MK Paran added.

MK Rozin echoed Paran's criticism, saying, "A government in which the public security minister, social equality minister, and the prime minister abandon everything to run and vote against a parliamentary commission of inquiry meant to eradicate violence against women is a goverment that has lost its moral mandate to rule."

The chairwoman of the Knesset's Committee on the Status of Women and Gender Equality, MK Touma-Suleiman, accused that "The coalition added insult to injury. The vote against the parliamentary commission of inquiry, after a month of dodging promises, shows a lack of political will and indifference to the suffering and lives of women."

"Those who think a woman who complains is a woman who is bored, cannot be responsible of women's safety. The best thing would be for this government to go home," she went on to say.