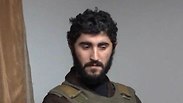 Awis Rajoub, Hamas militant arrested two months ago
Photo: Shin Bet media
Shin Bet Operations (קרדיט: תקשורת שב"כ)

The Shin Bet has thwarted an attempt by the heads of Hamas in Gaza to establish terror infrastructure in the West Bank to plan and carry out bombings in Israel, the agency said on Thursday.

According to the Shin Bet, members of Hamas's military wing recruited fighters in the West Bank, taught them how to build bombs and instructed them to find crowded places within the Green Line to target—such as a large building, mall, restaurant, hotel, train or bus.

The Shin Bet noted this plot was at a much larger scope and posed far greater danger than similar attempts in the past, as it was directed by Hamas's high command in Gaza and not by former Palestinian security prisoners expelled from the West Bank, as previous attempts had been.

The Hamas leadership put pressure on the militants in the West Bank to carry out the planned attacks as soon as possible in an effort to escalate the security situation in both Gaza and the West Bank.

Hamas communicated with the militants in the West Bank through messages passed on by Gaza patients allowed into Israel to undergo life-saving medical treatments, as well as other Gaza residents who had business contacts in the West Bank. The Shin Bet noted this was not the first time Hamas was exploiting humanitarian cases to carry out military operations in the West Bank.

The terror infrastructure was uncovered following the September 23 arrest of Awis Rajoub, a 25-years-old Hamas militant from Dura, near Hebron. The Shin Bet learned of Rajoub's actions on behalf of Hamas's military wing after he told some of his relatives and friends about it and asked for their help in purchasing materials to build bombs.

Rajoub was recruited by a Hamas militant from Gaza, who approached him close to the end of Ramadan and offered him to join the Izz ad-Din al-Qassam Brigades, the terror group's military wing.

On August 11, Rajoub was sent to a medical warehouse in Ramallah to pick up a cellphone for his communications with his operators in Gaza.

Several days later, he met with a Gazan woman who was accompanying her sister to Israel for medical treatments. She was sent by Hamas to provide him with a password for his phone and instructions on how to use the device.

The Gaza operators sent videos to this cellphone instructing Rajoub how to build remotedly-detonated bombs. Rajoub also had video chats with an explosives expert who is part of the terror infrastructure.

Rajoub recruited two Hamas members from Battir, Yazan and Sayyaf Asafra, and instructed them to find suitable targets for the attack in Israel and to prepare the explosives for the bomb, while he worked on the detonator.

Rajoub was ordered to finish preparing the bomb by the end of September and carry out the attack in early October, but was stopped by the Shin Bet before that.

The Gazan woman who provided Rajoub with password and instructions for his phone was identified as 53-year-old Naama Miqdad, while her sister, a cancer patient, was identified as 47-year-old Samira Smot.

The two women also met with Hamas terrorist Fuad Dar Khalil, who spent 14 years in Israeli prison for his involvement in a shooting attack and in planning other terror attacks. He was released from prison in 2016. The women gave him a suitcase containing a hidden letter from the Gaza operators.

The two women were sent by their relative Muhammad Abu Kwaik, 36, a member of Hamas's military wing, who is known to be in contact with terrorists and to assist them in their operations.

Also on Thursday, the IDF censor barred the publication of new photos Hamas released from a botched military operation last week in which Lt. Col. M. was killed and another officer was wounded. The IDF censor is concerned the new photos would be posted on social media, posing a risk to both the soldiers who took part in the mission and national security.