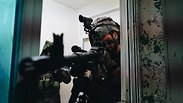 Commando Brigade training
Photo: IDF Spokesman's Office
Commando Brigade in training (צילום: דובר צה"ל)

The IDF released photos and video on Saturday night from a large-scale military training exercise of the Ground Forces' Commando Brigade, which drilled fighting on two fronts: against Hamas in Gaza and Hezbollah in Lebanon.

While the IDF is prepared for dropping its top forces on one front, such as the Gaza Strip, fighting on two fronts at the same time will be an entirely different story.

In such a scenario, the northern front—where Israel will face Hezbollah—would be considered the main front. The military's operational flexibility, alongside the home front's ability to withstand thousands of rockets and missiles fired every day from both fronts, would be tested in a way not seen in Israel in decades.

Defense officials estimate the majority of the IDF's quality resources in the air, land, sea, and intelligence, would be allocated to the northern front, with reserve brigades maneuvering inside enemy territory.

It is possible the political leadership's desire to reach an arrangement with Hamas is because Israel is trying to do everything it can to avoid conflicts on two different fronts at the same time, particularly in light of the increasingly explosive nature of Iranian military entrenchment in Syria and Hezbollah's project of converting their thousands of existing rockets into accurate missiles.

The Commando Brigade forces that took part in the drill were from the Duvdevan, Maglan and Egoz units.

The exercise lasted 10 days, taking place all across the country, and included extensive aerial and ground attacks done in close cooperation between IAF aircraft and the soldiers on the ground.

The IDF said the Commando Brigade drilled a quick transition between fighting on one front to another as well as fighting in both built-up and open areas in Gaza and Lebanon, while incorporating new capabilities the three elite units have acquired.

This is the Commando Brigade's sixth training exercise since its establishment three years ago. The brigade has yet to face war in its new formation, but its soldiers have already participated in dozens of operations and skirmishes with terrorists on the Gaza border and in the West Bank.

IDF Chief of Staff Gadi Eisenkot visited the troops during the drill and spoke to the commanders of the Commando Brigade. He also saw his son, Staff Sgt. G., who serves in the Maglan unit.

"The Commando Brigade is a new tool in the IDF's toolbox, which provides operational solutions to a variety of challenges and threats," the IDF Spokesman's Office said in a statement.

"The commanders and fighters in the brigade successfully faced the missions that were being drilled—both simple and complex—and demonstrated a high level of professionalism. This exercise proves the Commando Brigade is prepared and ready for any scenario and any enemy it will be required to face on any front."