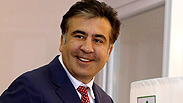 Mikhail Saakashvili
Photo: AP
An investigation by an Israeli security company has uncovered a plot by the former president of Georgia to assassinate the chairman of the European country's ruling party.

The second round of Georgia's presidential elections are scheduled for this Wednesday. The country's citizens will decide between two candidates: Grigol Vashadze, the candidate for the ruling party, and Salome Zurabishvili, who is backed by former president Mikhail Saakashvili.

Saakashvili does not currently live in Georgia. He was forced to leave the country four years ago due to suspicions of corruption and now lives in Ukraine.

CGI Group, a business intelligence and security consultancy company owned by Israeli businessman Zvika Naveh, and headed by former Shin Bet director and former minister Yaakov Peri, was hired by the ruling party several months ago to seek information about corrupt behavior of candidates from the rival party, or any other pieces of information that could sway public opinion in favor of Vashadze.

CGI investigated and in the course of their work they discovered that someone was looking for a "sniper" to assassinate former prime minster and the country's richest man Bidzina Ivanishvili, now serving as the chairman of the ruling party.

CGI conducted an exhausting investigation to discover who was behind the assassination plot and eventually came across a recording implicating those responsible: former president Saakashvili and his cousin Taimur Alsaniya.

The two can be heard discussing hiring a professional sniper to kill Ivanishvili. The recording also contains foul language and slurs aimed at the Georgian people, defined by the two as "stupid and screwed up."

The recordings were examined by one of the top sound labs in the world, which confirmed that Saakashvili and his cousin are the speakers. The report was sent to the authorities in Georgia, who launched an investigation.

The revelation did not remain a secret for long. Within a short time, the CGI Group report made its way to Georgia's leading news website, PIA.

"We do not discuss our clients nor comment on them to the media, but as for the Georgian project, the client chose to publish the findings of the investigation, which speak for themselves," said Yaakov Peri.