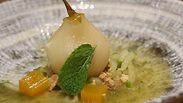 Pear in cardamom syrup over apple soup crispy peanut nest and tropical fruits
Photo: Sheraton Tel Aviv
Celebrating cuisines of the old and new worlds
Review: The Sheraton Tel Aviv hotel's signature restaurant, Olive Leaf, hosts a week of Colombian cuisine, courtesy of a visiting chef from South America; the Israel chapter of the Italian Academy of Cuisine sponsors a series of events marking the third annual international week of Italian gastronomy.
The Sheraton Tel Aviv Hotel has an admirable tradition of holding periodic culinary festivals celebrating foreign cuisines rarely enjoyed in Israel, and making them accessible to those who observe kashrut in the bargain. The most recent example was a festival of Colombian cuisine served in the hotel's signature restaurant, Olive Leaf, last week.

The Sheraton partnered with the embassy of Colombia in Israel to invite renowned Chef Diego Panesso of the famed restaurant Ambar in Pereira, central Colombia, to Israel. Chef Panesso and his sous-chef collaborated with the executive chef of the Sheraton Tel Aviv, Shimon Maman, in preparing a special three-course dinner representing highlights of Colombian gastronomy.





The festival dinner, inaugurated by Colombian ambassador H.E. Carlos Morales Lopez, consisted of an appetizer, main course and dessert. The introductory course was a deconstructed tamal (fried or steamed stuffed cornmeal dough) with corvina fish in a Creole sauce —a delicious combination.

The main course was a creamy atollado —a Colombian version of risotto— accompanied by two empanadas (turnovers) filled with duck confit. Enhanced by demi-glace and aioli, as well as fragrance of anise, this dish was filling and satisfying.

The exotic dessert was pear poached in apple soup and cardamom syrup, served with peanut crumble and gel of maracuya— a sweet tropical fruit that is a rare treat indeed in Israel.

The Colombian food festival was the final such celebration of 2018 at the Sheraton Tel Aviv Hotel, which had hosted the So French So Food culinary festival earlier in the year.

Olive Leaf @ The Sheraton Tel Aviv. Kosher. Hayarkon St. 115, Tel Aviv. Tel. (03) 521-1111
Israel joins in the annual international week of Italian cuisine
Now in its third year, the worldwide week of Italian cuisine was celebrated in Israel this month with a series of events in the Tel Aviv area. Following its official launch at the embassy of Italy, the local chapter of l'Accademia Italiana— the Italian Academy of Cuisine—held two well-attended activities celebrating Italian gastronomy.
The most hands-on activity was a master cooking class taught by Chef Massimiliano di Matteo, an oleh (immigrant) from Italy's Abruzzo region. Chef Massimiliano vaulted to fame in this country after winning the national MasterChef competition on Israel television.
Chef Massimiliano's workshop led participants in creating a distinctive "white menu"— four dishes of uniform color with very different flavors: lemon risotto with asparagus; spaghetti alla chitarra cacio e pepe (with black pepper and grated cheese); ricotta ravioli with grana Padano cheese; and vanilla panna cotta for dessert.
Following the master class, Academy Delegate Cinzia Klein awarded Chef Massimiliano the Italian Academy of Cuisine's Nuvoletti prize in recognition of his contribution to the promotion of Italian regional cuisine.
Towards the end of the week, the Academy joined with Tel Aviv's Pankina Restaurant to host a traditional Italian aperitivo — a delightful afternoon ritual revolving around drinks and snacks: a bounteous buffet of focaccia, pizza, pasta salad, couscous salad and hors d'oeuvres, plus a non-stop flow hot canapés: polenta with gorgonzola, lasagne squares, arancini, and eggplant parmesan.
Pankina. Kosher. Gordon St. 39, Tel Aviv. Tel. (03) 644-9793