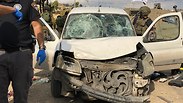 MDA teams
Photo: IDF Spokesperson's Unit
A video of the attack.
Three IDF soldiers were lightly wounded Monday afternoon after a terrorist rammed his vehicle into a group of security forces near the settlement of Karmei Tzur in Gush Etzion. The driver was shot and killed by an IDF reservist on duty.
The perpetrator, Ramzi Abu Yabes—a Palestinian man from Bethlehem's Dheisheh Refugee Camp—worked as a nurse.
The wounded soldiers were carrying out engineering work on the road between the Palestinian villages of Beit Ummar and El Arub at the time of the incident.
One of the soldiers, whose condition was initially described as moderate, was treated at the scene by MDA paramedics and later evacuated to Hadassah Medical Center in Jerusalem, where his condition was upgraded to light. Two other soldiers were taken to Shaare Zedek Medical Center in the capital.
Almost two weeks ago, four policemen were lightly wounded in a stabbing attack at a police station in Armon HaNetziv (East Talpiot) in east Jerusalem, after a Palestinian terrorist entered the station from the back entrance and stabbed a Border Policeman. Another officer was wounded during a shootout with the assailant.
A week earlier, a stabbing attack was thwarted at a gas station at Kfar Adumim in the Mateh Binyamin Regional Council, after a woman tried to stab a Border Police officer with a pair of scissors. The woman was neutralized and no injuries among Israeli forces had been reported.