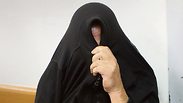 EL Al employee suspected of drug trafficking
Photo: Avi Moalem
Police arrest senior EL Al official suspected of drug trafficking
The head of the airline's Development and Resources Department, Rami Yogev, is suspected of helping a large-scale drug trafficking network bring nearly 15 kilograms of cocaine into Israel from South Africa; former Shin Bet agent also among suspects in the case.
Police arrested a senior El Al on Monday who is suspected of being involved in a large-scale drug trafficking operation.
The airline official, Rami Yogev, 53, is the manager of the Development and Resources Department at El Al and has been working for the company for 25 years.
As part of his job, Yogev serves as the liaison between El Al and the Shin Bet, which determines the security arrangements for EL AL flights and their representatives abroad.
As such, Yogev is granted a top security clearance—one of the highest in Israel—and is authorized to enter restricted areas housing the planes, and load and unload special supplies, including weapons.
According to the the Israel Police's Unit of International Crime Investigations, as a member of a drug trafficking network, the suspect allegedly used his security clearance and free access to company's planes to smuggle large amounts of cocaine to Israel.
Three other men suspected of involvement in the drug trafficking network were arrested. One of the suspects was identified as ex-Shin Bet official Beno Shalom, who served for 12 years as an agent in the Shin Bet's Jewish Division and was even involved in a secret operation in which he infiltrated an extreme right group.
Testimonies gathered by the police suggest that the network had a drug smuggling "route" between Johannesburg, South Africa, to Israel, and managed to smuggle in nearly 15 kilograms of cocaine.
Yogev was suspected of assisting the network in airport security checks.
The Rishon LeZion Magistrate's Court extended the remand of Yogev, Shalom and another suspect, Roy Chen, until Tuesday of next week.
"We believe that the suspect (Yogev) played a larger role in the operation than the other suspects so far," a police representative said at the court hearing.
Yogev's attorney said that his client "denies these allegations. Due to his classified nature of his job, I cannot elaborate further. We are confident that the police will release him soon." The other suspects also denied their involvement.
El Al said it "views these allegations gravely and awaits the result of the police investigation."