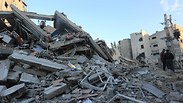 Destruction in Gaza following IAF strikes
Photo: AFP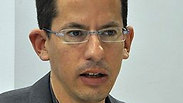 While Israel developed its split personality disorder concerning Gaza long before the latest so-called "round of fighting," the renewed ceasefire is an opportunity to try and discuss—this time seriously—the actual facts of life in Gaza.
Fake news, rabble-rousing and lies to their own people may be powerful tools wielded by the leaders in Jerusalem and Gaza, but the truth will come out. Propaganda cannot keep facts from their annoying habit of constantly cropping up and hitting us full in the face. Reality does not bow to the dictates of a particular political conjuncture. Sooner or later, the truth will always come back to bite us.
What is this split personality disorder? On the one hand, Israel wants total control over Gaza: over all comings and goings—of both people and goods; to decide whether a seaport or airport will be built; to control the airspace, or if Gazans have pasta or rice for dinner, and what medical care they can get. On the other hand, Israel wants Gaza to simply vanish altogether—to disappear behind the high wall going up around it, or sink into the sea, or become Egypt's concern, or fused to Cyprus or rocketed to Mars—anything, as long as it's completely out of our hair. Completely out, except for us having total control over it, that is.
Time for a reality check.
No geographic fault line or rift valley divides Gaza or the West Bank from Israel. We all live here together on the same tectonic plate. For better or for worse, our lives are intertwined. The overriding question whether the choices we make are for the best. Otherwise, we'll all suffer the consequences.
Trying to export Gaza—to Egypt, Europe or out of this world—is but one aspect of Israel's longstanding policy to cut off Gaza from the West Bank. This policy is not written in the stars: it is a politically motivated decision, as part of Israel's overall strategy to break up the Palestinian people into small, manageable bits. After all, it's easier to maintain power over fragmented crumbs than over a single cohesive national unit.
Israel already controls almost every physical aspect of life in Gaza: electricity, water and freedom of movement. The extent of this control means that Israel is responsible for the welfare of the people it holds under its thumb. Israel cannot simply shrug off the two million people whose daily reality its government has shaped. Yet physical control does nothing to alter the history or self-identity of Gazans. The two million Palestinians who live in Gaza are not Cypriots or Egyptian immigrants. Their relatives, history and political consciousness are all linked to the millions of Palestinians living in the West Bank, East Jerusalem and Israel.
There are 13 million of us living side by side between the Jordan River and the Mediterranean Sea. If we fail to acknowledge this fact, the power of reality will ultimately deal us a fateful blow. That this is the reality that was painfully brought home to us all by the fate of Mahmoud Abu Asbah: a Palestinian from the West Bank village of Halhul who was recently killed by a rocket that Hamas fired from Gaza, hitting an apartment block in the Israeli city of Ashkelon.
As a government mouthpiece, the IDF Spokesperson can try to bombard the public with all the latest inventions of preposterous verbal ammunition added to its arsenal, such as "unique terror assets," "mighty targets" and other bombastic gibberish. It's pathetic. It also brings us back to the main point. Stop trying to come across as macho, as "real" men, and start acknowledging that there are actual real live men living on the other side, too. And women. And children. You know, people. What sort of lives do they lead? What do they have in terms of education, work, family life, dreams and possibilities?
After years of government propaganda that "there's no such thing as an innocent Gazan," "they all support Hamas" and the number-one sensational hit "everything is and always will be the fault of Hamas," it's certainly not easy to start telling Israelis the truth. All the same, going through another "round" and yet another is even harder—and, quite possibly, bloodier. Stop trying to "act the man" and just start being human.
Hagai El-Ad is the Executive Director of B'Tselem.