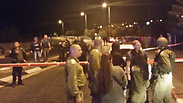 Scene of the stabbing attack in Ariel Junction, 2015
Photo: Shomron Regional Council
Ohad Hertz, who was left disabled after he being stabbed in a terror attack at the Ariel Junction in 2015, confronted his attacker at the latter's court hearing a week and a half ago.
The military court in the West Bank sentenced Monday the terrorist, Tamer Shawkat Ahmed Khadir, to 17.5 years in prison and ordered him to pay Hertz NIS 30,000 in compensation.
At the hearing, ahead of sentencing, Hertz, who suffers from a disability as a result of the attack, chose to speak before the court and address his attacker.
"You hurt me, I was hospitalized and was left disabled for life, but the story does not end there, it's just beginning— since you tried to take me down, I'm only rising up," Hertz told the terrorist.
"On the day of the attack, I was on my way home from a first date with a girl who is now my wife; we have a home and a son. I have completed a master's degree; I work in education and teach love and compassion, exactly the opposite of what you represent.
"You wanted to destroy, sow destruction, see blood, and in the end you lost the battle. You coward, you ran away like a rabbit when you were done. Instead of destroying, you helped build. Instead of killing, you gave me a chance to rebuild my life. I am disabled, but alive and happier than ever before," Hertz declared.
"My ambition is to heal the world, just the opposite of what you stand for: murder, cruelty, hatred and evil. I beat you! I'm alive, I'm working!" he exclaimed.
The attack took place three years ago, when Hertz, a combat paratrooper at the time, was standing at a bus stop at the Ariel Junction.
According to the indictment, the terrorist decided to carry out a stabbing attack that same day "with the intention of killing an Israeli citizen with a knife." The terrorist hid the knife in his clothes and proceeded towards Ariel junction, where he noticed Hertz and decided to stab him to death.
"The court communicated an important message by ordering the terrorist to pay the victim. This way, the terrorist, whose goal was to commit murder, not only failed to achieve his goal, but was ordered to compensate the victim.
The court finally heeded to victims' demands and refrained from granting a reduced sentence to a terrorist, even as part of a plea bargain," said Hertz's attorney.