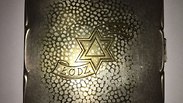 The silver cigarette case.
Photo: Shem Olam
A rare engraved silver cigarette case was discovered a decade ago in the remnants of the Łódź ghetto in Poland. It was given to a Jewish ghetto prison warden by an inmate—the artist who made it—to buy a friend's freedom, rather than his own.

Soon, the rare find is going to be a part of an exhibition in the Shem Olam Faith & the Holocaust Institute for Education & Research.

The engraving work on the piece is rare and unique for the time. To personalize the gift, the artist added an engraving with the warden's name and the symbol he wore on his arm band—attesting to his role in the Jewish Ghetto Police.

The ghetto prison was run a Jewish man who was loyal to the Nazis, named Salomon Herzberg.

"Whenever we find such artifacts, we get chills. It reveals what people had to do to survive," said Rabbi Kriger of the Shem Olam institution. "It's a valuable piece, since most of the artist's work was lost during the Holocaust."

The cigarette case was preserved marvelously, despite years of rolling around in the ghetto debris.

The artist who made the piece, Chaim Kliger, survived the Holocaust and died in Israel in 1956. He would never know his cigarette case survived throughout decades.

"We believe that this unique gift allowed Kliger to save another inmate from being sent to a labor camp or another unknown destination. Detainees were the first to be sent away during German Aktions," added Kriger.

Years after the Holocaust, new buildings were erected on the Łódź ghetto's ruins. A decade ago, during construction, the cigarette case was found a Polish man who understood the find is unique and of historical importance. He held on to it and finally donated it to the Shem Olam Center, where it is to be exhibited soon.