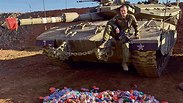 IDF soldier recycles bottles to help Holocaust survivors
Photo: IDF Spokesperson's Unit
Omer Adar, a Merkava tank driver in the 74th battalion of the 188th Armored Brigade, made it his life project to recycle plastic bottles to help Holocaust survivors.

"It began in the 12th grade, when I was collecting cans to pay for my year's Purim party. I made NIS 5,000 in eight months," recalled Omer, 20, from Kibbutz Ein Dor.

"I continued collecting cans and bottles during my basic and advanced training in the army, and when I arrived at my company, I was made in charge of recycling, which I also do on the weekends at home," he added.

Omer has so far managed to collect more than 24,000 bottles for recycling.

"Two years ago, Omer came back home from the army looking sad and withdrawn," Shaul Adar, Omer's father, said.

"Since I was worried, I asked him what had happened, to which he replied that we are not doing enough for the Holocaust survivors. Since then, Omer made (recycling bottles to help Holocaust survivors) his life mission," Shaul continued.

Now, Omer is looking for needy Holocaust survivors to give the money deposit he had received for the bottles to. "I want to reach out to them in person, not through NGOs," he explained.

"I want to meet them, hear their personal story and give them what they need, whether it's food or home appliances," he went on to say.

Eyal Betzer, the head of the Jezreel Valley Regional Council, where Omer resides, praised the 20-year-old soldier for his work.

"Social engagement and contribution to the community are the values representing our valley," he stated.