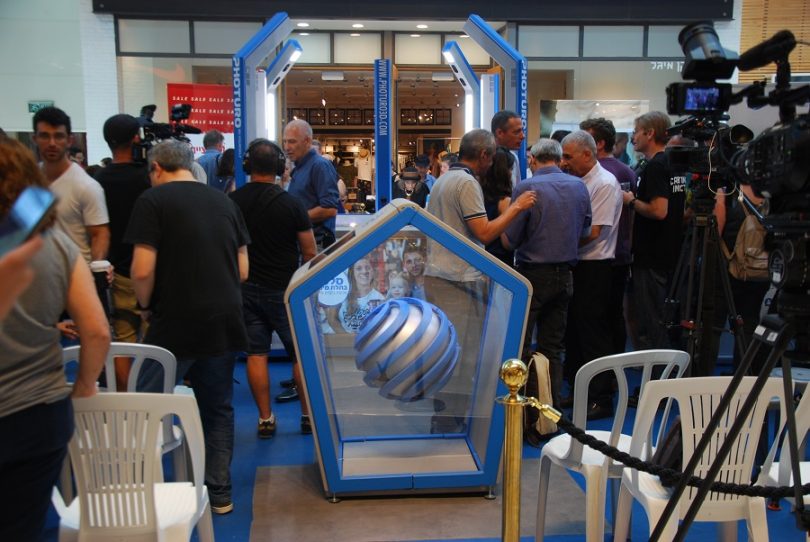 Presentation of 3D photo booth in Tel Aviv
Photo: David Lee
New Israeli technology could revolutionize surveillance
Israel's first-ever three-dimensional photography booth, from high-tech companies Photuro and Mantis Vision, contains 22 cameras and high-quality lighting. The state-of-the-art kiosk sends an accurate virtual model of the photo to your smartphone within seconds.
Imagine jumping out of a helicopter, seeing what an outfit looks like before trying it on, or becoming a leading character in a favorite video game. The latest technology from high-tech companies Photuro and Mantis Vision is bringing consumers one step closer to realizing these visions. Israel's first-ever three-dimensional photography booth was recently inaugurated at the Ayalon Mall in Ramat Gan, with people were lining up to try it.
"A 3D camera contains all the depth information, meaning that from the image itself you can get the (exact) measurements of a person," Shabtay Negry, Chief Business Officer (CBO) of Mantis Vision, explained to The Media Line. "If I capture you in 3D, I can get your height, your width, the thickness of your palm—the data contains all the information and we can gather all the dimensions with high accuracy."
The state-of-the-art kiosk contains 22 cameras and high-quality lighting. Those wishing to create their very own avatar need only to fill out a form, select the image specifications, step into the booth, and within seconds an accurate virtual model is sent to their smartphone.
"You can scan yourself into different backgrounds and embed yourself within video games like Grant Theft Auto. The sky is the limit," Ronen Hakimi, co-founder & CEO of Photuro, told The Media Line.
Up to five people can be photographed simultaneously, and the technology also enables people to create a personalized 3D-printed sculpture. Though these miniature statues are pricy—running anywhere from $60-$600—the virtual model costs only $12, which means almost everyone can have their very computer icon.
While other companies—such as Shapify in the United States and Omote in Japan—offer a similar service, the Israeli technology differs by providing individuals with immediate access to their virtual image.
"If you tried to get your digital model from other companies, you would see that it's much more difficult and it takes much more time," Hakimi noted. "This technology allows you to receive your image in very high quality within minutes."
It seems there is already a keen interest in the technology in a number of sectors, including robotics, shipping and—perhaps most notably—surveillance.
"(Let's say) you have a database of suspected (criminals) that you would like to arrest. We can create a 3D database with our 3D cameras that can capture anyone trying to (get into a specific location) without them needing to be (motionless)," Negry explained. "(The technology) can capture the face and entire body and take a biometric signature (based on this information)."
However, some fear that the technology could, under certain circumstances, be used for nefarious purposes. As 3D images become increasingly sophisticated, creating fake video segments, for example, might one day be as simple as pressing a button. This could, in turn, produce an even greater preoccupation with the "fake news" phenomenon.
Overall, technological advancements are liable to blur the line between reality and fiction, leading to completely new forms of human interaction, both with products and among each other.
The question is, are we ready for it?
Article written by Maya Margit
Reprinted with permission from The Media Line