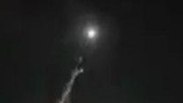 Missiles flying over the town of Kiswah, south of Damascus
Syria: we downed Israeli plane and missiles
Hours after an Iranian plane flew directly to Beirut, Syrian television reports that its air defenses downed an Israeli warplane and four missiles; IDF says Syrian reports are false and no Israeli plane was shot down; in addition, a missile was fired at an open area in the Golan Heights.
Syrian news agency SANA reported Thursday that the regime's air force continues to repel Israeli "aggression" over southern Syria and that its air defenses have downed several "hostile targets" that were flying over the town of al-Kiswah, home to military bases in south of Damascus. The IDF Spokesperson's Unit denied this report.
Russia's RIA news agency cited a Syrian security source as saying that the "Syrian air defense forces shot down an Israeli war plane and four missiles." In addition, Syrian state television reported that "the Israeli attack did not achieve its goals because the hostile targets were shot down."
The attack took place at al-Kiswah, a town south of Damascus, which is only 50 kilometers away from the Israeli border. Another Syrian news agency claimed that the sites belonged to Iranian militias, but this report is yet to be confirmed.
According to the IDF Spokesperson's Unit, the Syrian reports are false and no Israeli plane was shot down. However, a surface-to-air missile was fired at an open area in the Golan Heights and IDF forces are searching the area for additional hits. "At this stage, it is not clear whether a missile actually landed in our territory," the IDF Spokesperson's Unit added.
At the time of the attack, IDF Chief of Staff Lt.-Gen. Gadi Eisenkot was attending Police Commssioner Roni Alsheikh's farewell party.
Missiles flying over the town of Kiswah, south of Damascus
This is not the first time an attack on al-Kiswah has been reported. Last May, an attack on Iranian military facilities south of Damascus, attributed to Israel, had killed at least 15 people, including eight Iranians.The target at the time was medium-range rockets with relatively heavy warheads.
Six months prior, an Iranian base was bombed in the same area, three weeks after the BBC published satellite images of the site.
This is the first attack by the Syrians since the downing of the Russian plane by Syrian forces responding to an Israeli airstrike, a friendly fire incident that stoked tensions between Moscow and Jerusalem.
Prime Minister Benjamin Netanyahu said that even after the Russian plane incident, Israel continued to operate in Syria. However, Damascus didn't publicly accuse Israel during that period. Indeed, the Syrian Observatory for Human Rights noted Thursday that "for the first time in 75 days, Israeli missiles directly attacked targets south of Damascus."
The attack came only a few hours after a Boeing 747 belonging to Iranian airline Fars Air Qeshm— reportedly used by the country's Revolutionary Guards to smuggle weapons to Tehran's allies— conducted a direct flight from the Iranian capital to Beirut for the first time. The 27-year-old Jumbo jet took off on Thursday morning at 8:02am from Tehran to Beirut and landed in Lebanon at 10:19am.
Last month, Fox News reported that a Fars Air Qeshm flight from Tehran to Damascus, which later continued to Beirut, was carrying weapon systems—including GPS components—intended to convert inaccurate projectiles into precision-guided missiles.
Suspicions first arose that Iran uses the cargo airline to smuggle advanced weapons two months ago after reports emerged that the Israel Air Force (IAF) carried out an attack on targets at the Damascus airport.
"The Iranians are trying to find new ways to smuggle weapons to their allies in the Middle East … They are exploring the West's ability to locate the smuggling sites," said a Middle Eastern intelligence source, who chose to remain anonymous.
Prime Minister Benjamin Netanyahu revealed two months ago, two months ago, during a speech at the United Nations General Assembly (UNGA) that over the past year, Hezbollah— guided by Iran — has attempted to build an infrastructure for the conversion of surface-to-surface missiles into precision-guided missiles near an airport in Beirut.
"I have a message for Hezbollah today: Israel also knows what you're doing. Israel knows where you are doing it and Israel will not let you get away with it," Netanyahu stressed during the speech.