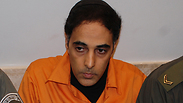 Yigal Amir
Photo: Zoom Out Production
Channel 20 intends to air excerpts from an interview it conducted with prime minister Yitzhak Rabin's murderer Yigal Amir on Sunday evening, amid claims from the Israel Prison Service (IPS) that the inmate has not given any interviews recently.

Amir has been barred from giving interviews from prison. To bypass the IPS regulations, presenters Shimon Riklin and Yinon Magal will read out excerpts from the interview.

MK Ayelet Nahmias-Verbin sent a letter to the Cable and Satellite Broadcasting Council and to The Second Authority for Television & Radio on Saturday, urging them to intervene in order to stop the segment from airing.



Channel 20, which began as a channel for heritage, "could cause grave harm to the general public under the guise of freedom of expression," the MK stressed, adding that the interview with the murderer "seeks to erase history."

On Thursday, the Channel 20 management declined a request for comment from Yedioth Ahronoth about the interview, promising only that the show "will be interesting."

A statement from the IPS said Amir "denied the reports about an interview he gave and said he had no intention of giving an interview."

A few weeks ago, the channel aired a pandering interview with the Jewish terrorist who burned a bilingual school in Jerusalem. After facing public backlash, the channel's management was forced to issue an apology.

A deacde ago, Channel 2 and Channel 10 planned to air phone interviews with Amir, but the public outcry the followed the airing of promos featuring excerpts from the interviews led the two channels to scrap the full interview.