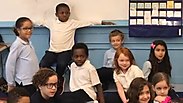 African-American, Latin and Jewish students of the Harlem Hebrew Language Academy Charter School in
Students of the Academy Charter School sing Smadar Shir's songs in Hebrew

African-American, Latin and Jewish students at the Harlem Hebrew Language Academy Charter School in New York brought Israeli writer and poet Smadar Shir to tears during her recent visit, singing a medley they had prepared with their teachers from a selection of children's songs she had written.

Shir visited the school as part of the "Community Project" delegation—a joint initiative of the Ministry of Diaspora Affairs and the Gesher NGO—to better understand the Jewish community in the United States.

As she entered their classroom, the children started singing the song "Shalom," which was written by her and composed by Israeli entertainer Moshe Datz. A surprised and moved Shir joined in with the children, singing "No Celebration Without a Cake" and "My life," both of which were also composed by Datz.

The Harlem Hebrew Language Academy Charter School, located in the heart of Harlem, serves hundreds of students, most of whom are not Jewish but study Hebrew. The school is supported by the State of New York. The national office of the school, Hebrew Public, is supported by private philanthropy, including some Jewish donors.

The school is open to all residents of the neighborhood regardless of religion, race or gender. While the school teaches Hebrew and Israeli culture, it does not teach Jewish or religious content. Hebrew is being taught in small groups by three teachers in a classroom.

During the trip, the delegation met with Jews from various communities, particularly with the students and the young leadership in each community. In addition, the delegation met with Dani Dayan, the Israeli Consul General in New York, and with members of the Jewish Federations in Boston and New York.

Gesher Executive Director Ilan Geal-Dor said that the purpose of the visit of the Israeli delegation to the Diaspora is to familiarize Israelis with Diaspora Jews.

"Unfortunately, there is a growing distance and gap, and we are trying to build a new bridge by introducing Israelis to the Jewish communities in the Diaspora," he noted.

"Such a conceptual bridge can only happen if we meet, talk to one another and build people to people relationships," he added.