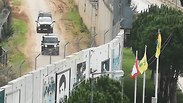 Hezbollah is adopting a more moderate tone and demonstrating restraint in its official statements following IDF Operation Northern Shield which was launched Tuesday morning in an attempt to expose and neutralize terror tunnels constructed by the terror organization along the Israeli-Lebanese border.

Hezbollah's spokespeople said that the terror organization and the United Nations Interim Force in Lebanon (UNIFIL) are "closely monitoring the enemy's activities along the border and that the Lebanese army is in constant state of alertness. However, routine is maintained in southern Lebanon's villages."

Moreover, Hezbollah officials accused Prime Minister Benjamin Netanyahu of launching the operation to take the focus off his ongoing criminal investigations.

"He (Netanyahu) is in crisis mode. He is tilting at windmills in Lebanon in an attempt to evade it," an unnamed official told the Lebanon-based An-Nahar newspaper, in a reference to Don Quixote, a literary character who fights windmills that he imagines are giants.

The Shiite organization refused to further comment o the matter, while UNIFIL added that, "We are holding communications with both sides to maintain the calm and stability along the Israeli-Lebanese border."

IDF uncovered Hezbollah tunnels

The Security Cabinet will convene on Tuesday at 6:00pm in the Kirya headquarters base in Tel Aviv in order to discuss the situation on the border and receive updates.

In the past, Hezbollah threatened to capture the Galilee, simulating its plan in an animation video. However, penetrating Israel through terror tunnels was not mentioned in the plan.

Hezbollah's video threatening to capture the Galilee

The terror organization revealed several times it had used tunnels for various purposes, including sheltering Hezbollah members during battle with Israel.

In 2015, the pan-Arab newspaper Asharq al-Awsat reported that tunnels are not a new tool in Hezbollah's arsenal in general, and in southern Lebanon in particular.

IDF preparing equipment in wake of Operation Northern Shield (צילום: אביהו שפירא)

According to the newspaper, the tunnels along the border were already dug as early as 1982, and Hezbollah began using them in the early 1990s.

A former Hezbollah member told the newspaper that Israeli aircraft had monitored and documented one of the areas in which the tunnels were dug on a daily basis. Eventually, he added, the area was attacked by the Israeli Air Force (IAF) in an attempt to block the tunnels' shaft.

Meanwhile, Saudi Arabia's Ambassador to the United States slammed Monday Hezbollah and Iran. The envoy accused the Shi'ite terror organization of attempting to establish an Iranian proxy in Lebanon.