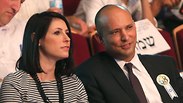 Education Minister Bennett with his wife Gilat
Photo: Alex Kolomoisky
Bennett slams Netanyahu: 'You tried to hurt my wife'
Following report that the prime minister asked Walla! News owner Elovitch to publish story that Bennett's wife, Gilat, worked as a chef at non-kosher restaurants, the furious education minister demands apology; Likud: 'Bennett kept briefing reporters against Sara Netanyahu.'
Education Minister Naftali Bennett slammed Prime Minister Benjamin Netanyahu on Wednesday evening amid reports Netanyahu asked Shaul Elovitch, who owns the Walla! News website, to publish a story that Bennett's wife, Gilat, worked as a chef at non-kosher restaurants.

The Israel Police announced Sunday that there is sufficient evidence to indict Netanyahu for bribery, fraud and breach of trust in Case 4000, which deals with suspected corruption tied to telecommunications giant Bezeq and the Walla! News website.

Prime Minister Netanyahu is suspected of taking bribes and acting in a conflict of interest by promoting regulations worth hundreds of millions of dollars to Bezeq and its majority shareholder Shaul Elovitch, including Bezeq's merger with the satellite TV company Yes. In return, the prime minister allegedly received favorable coverage on Walla! News, which is owned by Bezeq.

Journalist Amit Segal quoted a close associate of Elovitch on Wednesday night who claimed that "Netanyahu had unusual requests. One day, he asked (Elovitch) to publish a story about the fact Gilat, Bennett's wife, was a chef in non-kosher restaurants. They (Walla! News) wouldn't publish something like that."

The story Netanyahu allegedly sought to have published about Gilat Bennett apparently refers to the time the couple lived in New York in 2002.

Bennett was furious about the report, posting an unusually harsh message on social media, demanding Netanyahu to apologize to his wife. "I feel sorry for you, Mr. Netanyahu. You personally took the trouble of calling the owners of Walla! to hurt my wife," Bennett wrote. "This is a despicable and cowardly act. Shame on you."

"I married Gilat, a wonderful woman, an Israeli from a secular home with values, and together we built a wonderful religious Zionist home. My family is the pride of my life. Don't apologize to me, I'm not interested. Apologize to my wife," he added.

Netanyahu's Likud Party rejected Bennett's demand, saying "There's no limit to Bennett's hypocrisy. He's the one who should apologize. Many journalists know that from the moment he left Netanyahu's office, Bennett didn't stop briefing (reporters) against Sara Netanyahu and slandering her at every opportunity. People who live in glass houses shouldn't throw stones."