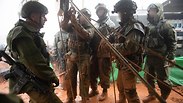 IDF forces operating on the Lebanon border
Photo: IDF Spokesman's Office
Hezbollah turns Lebanese border villages into military bases
Kafr Kela in southern Lebanon is home to some 10,000 people, mostly farmers, but also to a Hezbollah military base complete with fighters, about 20 arms depots, fighting positions and observation posts—all ready for the day Nasrallah orders the start of the operation to conquer the Galilee.
The first Hezbollah tunnel the IDF found near Metula came out of Kafr Kela, a Shiite village in southern Lebanon that the terror organization has turned into a military base.

The village, 3.5 kilometers in length, 1.5 kilometers in width, is home to some 10,000 people, most of them Shiite, and almost all of them farmers. But behind the surface hides a Hezbollah base, including about 20 arms depots, fighting positions both overground and underground, observation posts, and an advanced intelligence apparatus.

At the south of the village there is a road along the Israel-Lebanon border. Observation points along this road are also used for rioting.

Dozens of Hezbollah members live in the village among the civilian population. In a state of war, they would be reinforced by forces from Hezbollah's Special Forces unit Radwan, whose fighters are returning from at least six years of fighting in Syria with a lot of operational experience.

Kafr Kela is not the only one. When the time comes, Hezbollah fighters stationed at villages along the Israel-Lebanon border will launch an assault against the Israeli communities on the other side of the frontier. Each such base has a commander and a headquarters.

The tunnel coming out of Kafr Kela was supposed to allow a Hezbollah vanguard of dozens of fighters to infiltrate the Metula area, take over the main roads and cut the city from help while the terror group's ground forces cross the border into Israel.

Nevertheless, while the tunnels have tactical importance, there is a only a small number of them. Hezbollah has a plan of attack for every Israeli community along the border, and those can be carried out even without the underground element.

Hezbollah operations from Kafr Kelfa, for example, are meant to include rocket fire toward Metula, mortar shells, anti-tank missiles and of course a ground offensive.

Hezbollah leader Hassan Nasrallah has been talking about his plan to conquer the Galilee since 2011, and the IDF has been preparing accordingly—both by gathering extensive intelligence on the terror group's operations in the border area and by building an obstacle including a wall in some parts, and the use of the natural bluffs in others, meant to hinder the Hezbollah forces while Israeli aerial force bombard them.

"Hezbollah has bolstered its offensive plans and is still developing them," said Lt. Col. Yiftach Norkin, the operations officer of the Galilee Division. "We're no longer talking about companies, but battalions with thousands of trained fighters preparing to infiltrate our territory under organized command and control, under fire and with the help of observation posts."

"We're preparing with a strong defensive plan, which will take advantage of the fact these are large forces moving towards us," Norkin told Ynet. "We'll also want to attack the non-accurate heavy short-range rockets before they are launched."
Hezbollah's elite tunnel unit
Hezbollah's elite tunnel unit Rawdan is called after arch-terrorist Imad Mughniyah, nicknamed al-Hajj Radwan, whose assassination is attributed to Israel.
The force, funded by Iran and led by Abu Ali Tabatabai, is a commando unit for Hezbollah, which recruits the best fighters and puts them through grueling training for covert missions.
Lebanese youth aged 17-19 are recruited to the force without being told this is where they are going. Their training includes running and crawling in mountainous area, hand-to-hand combat, and the use of firearms.
Smadar Perry contributed to this story.