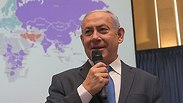 Prime Minister Benjamin Netanyahu
Photo: Ohad Zwigenberg
Israeli envoys to Netanyahu: 'We can't work under such conditions'
Israel's Ambassador to the Netherlands, Aviv Shiron tells Prime Minister Netanyahu the Foreign Ministry's situation 'has never been worse'; Netanyahu, who is also the foreign minister, vows to 'bring budgets back to the Foreign Ministry' after 2019 elections.
Israel's ambassadors have alerted Prime Minister and Foreign Minister Benjamin Netanyahu to the dismal state of the Foreign Affairs Ministry, telling him extensive budget cuts in the ministry have created conditions under which they "are unable to work."

During an ambassadors' conference closed to the media on Monday, the senior diplomats descibed a grave crisis.

Hanan Godar, Ambassador to South Sudan and former chairman of the Foreign Ministry Workers Committee spoke about the envoys' wage, adding that the "situation is very hard."

In response, Netanyahu asked his Chief of Staff Yoav Horowitz to present an outline to resolving the dire situation.

Horowitz expressed optimism, saying a solution to the ministry's problems is near, and that "the issue is expected to be resolved over the upcoming days."

Israel's Ambassador to the Netherlands, Aviv Shiron, echoed Godar's sentiments, stating that "The ministry's situation has never been worse. The ministry has neither the budgets nor the means to operate. We are constantly challenged by our work. But a reality in which we are unable to work is impossible. The State of Israel is abandoning the heads of its posts abroad and causes a drop in motivation."

Israel's Ambassador to Germany Jeremy Issacharoff added that "Israel must provide a solution. People cannot work without pay."

Israeli Ambassador to Paris Aliza Bin-Noun spoke about the ministry's poor image and the fact Israeli diplomats are unable to convey their messages to the world when they lack the tools to do so.

Deputy Foreign Minister Tzipi Hotovely backed Bin-Noun, saying, "The ambassadors feel that the Israeli public does not understand what they really do and see them as clerks."

Netanyahu's response surprised the ambassadors. "Budgets were indeed allocated (to other ministries), and after the 2019 elections I intend to bring them back under the Foreign Ministry's purview. I'm also considering merging departments, which were taken from the ministry, in order to restore its roles and authorities."

When asked who will be the next foreign affair minister, Netanyahu replied that "The Foreign Ministry functions well because of its people."

According to Netanyahu's senior associates, the premier is yet to decide whether to appoint a new foreign minister instead of him.