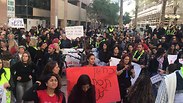 The social worker's protest in Be'er Sheva
Photo: Social Workers Union
Social workers protest in Be'er Sheva (צילום: איגוד העובדים הסוציאליים)
Social workers suspended all welfare services in the south of the country on Monday, calling on urgent reforms to ensure the protection of employees, higher salaries and overall improvement of working conditions.
The sphere of social services appears to be struggling as regional welfare authorities reported they are having trouble manning over 400 positions that remain vacant.
Elior Mor Yosef, 24, is one of the young and ambitious people who chose social work in order to make a difference. He graduated with honors from university, but he understood early on in his internship that this field wasn't for him.
"I was exposed to a violent attack on the staff there, and it really made an impression on me," said Yosef. "One day, a man started yelling and turned a desk over on the manager. The security guard threw him out, but I remember the fear all the employees felt, and as a student I realized, next time it could be me—and that this man could be waiting for us outside and we wouldn't know."
Yosef took up a management position in a boarding school instead of practicing social work.
"When I went to look for jobs, I heard the pay that they're offering—NIS 7,200 per month—is shameful, you can't live like this. Good social workers are abandoning the public service because they fear violence and don't feel like the system will protect them, and the wages are just disrespectful. These are people who worked hard and studied," he stressed.
The caseload is also a factor for workers, explains Yosef. "One worker said she has 400 cases. I asked her honestly if she's able to take care of all of these people and she answered, 'Honestly, no. I get to the most urgent ones and to the people who can really stand their grounds and demand treatment."
Oshra Kazaz, a social worker from the Or Akiva welfare branch, has also experienced violence.
"A man whose child has been sent to boarding school under a court order arrived. Due to the poor family circumstances, I told the father that I can't allow the child to go home for the weekend, and he just stood up and beat me. I tried to run, but didn't make it," she recalled.
Kazaz is 50 and has been on the job for 25 years. She has many stories to tell, some very recent. "A month and a half ago, a man came in and asked for financial support that he wasn't eligible for. He yelled and then picked up a chair and threw it at the manger, who moved at the last minute. It missed her face by centimeters."
"A month ago, a man came in and asked for service outside of office hours. We asked him to come in later with the rest of the public, and then he started yelling, swearing and threatening. Three weeks ago, someone threw stones at our office," Kazaz continued.
Still, she likes and enjoys her job and helping people—she just wants to feel safer. "Even if we have disagreements, in 95% of the cases we manage to solve things peacefully," Kazaz said. "Still, I don't want to walk out of court feeling threatened. We didn't take a self-defense course during the degree. I studied social work in order fulfill my destiny to help other people, not myself."
Inbal Hermoni, head of the Social Workers Union, believes the social services in the country are on the verge of collapse.
"Social workers need to make an honorable living instead of ending up as a punching-bag. Without a real solution for the poor working conditions and the caseload, there will be no social services in Israel. We demand serious negotiations with the Ministry of Social Affairs and Social Services and the Treasury, in order to save Israel's welfare services," she vented.
Yaniv Ben Dan Yehezkel, spokesman of the Osim Shinuy social worker's student campaign, said that there is a long road ahead.
"The fight with the Finance Ministry is far from over—workers experience violence, neglect, and a humiliating working environment. Workers that studied hard ... make very low wages and even risk their lives for the public's welfare," he stressed.
"We call upon the Treasury to end this saga and negotiate with us—we won't give up until our demands are met," concluded Yehezkel.
MK Eli Alaluf (Kulanu), chairman the Knesset's Labor, Welfare and Health Committee, slammed the Social Services Ministry in a recent Knesset discussion.
"The ministry didn't see fitting to examine the social workers' claims and to protect them. The infrastructure in welfare facilities are also lacking, in some centers workers see the public in tiny seven square meter rooms. The working conditions are poor," said Alaluf.
Chairman of the Knesset Committee on the Status of Women and Gender Equality, MK Aida Touma-Suleiman (Joint List), added that "social workers have been suffering from poor working conditions but most of all, from violence."
However, Dr. Avigdor Kaplan, the director general of the Social Services Ministry, blamed the Social Workers Union for not presenting clear demands before going on strike.
"I have often reached out to you (Inbal Hermoni-ed) and invited you to take part in concrete discussions with the supervisor of wages ... It's too bad you chose a strike over negotiations. Strike days hurt the wages of the social workers, who don't make much as it is," said Kaplan in a letter addressed to the head of the union.
"I have often reached out to you and invited you to take part in concrete discussions with the supervisor of wages, but you chose not to approach me. It's too bad you chose a strike over negotiations. Strike days hurt the wages of the social workers, who make little as it is," said Kaplan.
"We were sorry to hear that the Social Workers Union has decided to go on a strike that is going to hurt the public, when we've only just begun discussions on the matters in question, and without expressing their concerns to us regarding the issue of violence," said the Finance Ministry in a statement.
Since last Thursday, the Social Workers Union has been striking daily in different regions around the country. During the strike there are no office hours, no committees for child safety or domestic violence and no writing of court briefings.
So far, workers went on strike in the northern, southern and Jerusalem regions and on Thursday, the welfare services in the center are expected to join the campaign.