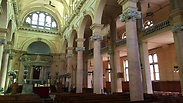 Egyptian President Abdel Fattah el-Sisi will allocate $71 million to renovate Jewish heritage sites and synagogues in Egypt, Minister of Archeology Khaled Al-Anani revealed, as the country marked the festival of Hanukkah with an interfaith gathering.

The Egyptian government has some 500 items collected from synagogues, which will be presented to the general public. Cairo has 13 synagogues, but only three of them are active: the Shaarei Shamayim Synagogue, the Ben Ezra Synagogue in the Abbassia neighborhood and the synagogue of the Karaite community. Al-Anani said that some of the synagogues would cease to serve as houses of worship and would instead become tourist sites open to the general public.

"There is significance in rehabilitating Jewish synagogues, similar to renovating pharaonic, Islamic and Coptic heritage sites," the minister said. But he added: "It should be remembered that the Jewish articles and the synagogues belong to the Egyptian government."

Sisi stressed that there would be no "foreign involvement" in the renovation process - an indirect referense to attempts by Jewish organizations abroad to intervene in and finance the renovaqtion work. He said that all the work would be carried out by Egyptians only, using Egyptian government funds.

"Most of the synagogues are currently in very poor condition and must be renovated in order to turn them into visitors' centers," explained al-Anani, during a special presentation at the Egyptian parliament. He also said that an anti-smuggling authority operating in the UAE city of Sharjah located hundreds of items from Egyptian synagogues that were destined for Europe.

According to al-Anani, Jewish, Islamic and pharaonic artifacts were also smuggled into Italy, "and we are negotiating with the Italian government for their return."

Meanwhile, Cairo for the first time celebrated Hanukkah with a joint event for Jews, Muslims and Christians. The head of the Egyptian Jewish community, Magda Haroun, invited dozens of non-Jewish guests to the Shaarei Shamayim synagogue on the outskirts of Cairo for a ceremony at which she explained the meaning of the holiday.

Fewer than a dozen Jews, most of them elderly, remain of what was once a large Egyptian Jewish community.