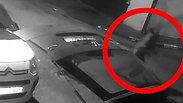 Footage showing IDF troops shooting disabled Palestinian
New footage shows disabled Palestinian shot from behind by IDF
B'Tselem releases footage showing Muhammad Habali, a 22-year-old mentally challenged and disabled man from Tulkarem, getting shot in the back of the head by 3 Israeli soldiers on quiet street, contradicting IDF reports of violent disturbances.
Footage showing IDF soldiers shooting Habali

New footage, showing Muhammad Habali—a mentally challenged and disabled 22-year-old Palestinian man—getting shot in the back of the head by IDF soldiers, was released by the human rights organization B'Tselem on Tuesday.

The incident occured last week during an IDF operation in the city of Tulkarem in the West Bank, and had been captured by four security cameras in two different areas of the street where Habali was shot.

Contrary to earlier IDF reports, the area appears to be completely calm, showing no disturbances that might have provoked the soldiers to use live fire.

In addition to the footage, B'Tselem also conducted their own investigation into the incident, which indicates that two soldiers and an officer approached the a-Sabah restaurant, where Habali had just finished a shift, and fired several shots at a group of young men standing outside the restaurant.

While most of the men fled unscathed, Habali—who was carrying a walking stick due to an injury sustained in a car accident several years ago—had been shot in the head from behind, from a distance of around 80 meters. Another man, a resident of Tulkarem, was shot in the leg.

Footage showing IDF soldiers shooting Habali

About a minute later, the three soldiers are seen teaming up with other troops in the area and leaving without providing Habali any medical assistance.

The 22 year old was then evacuated to a hospital in Tulkarem where he was pronounced dead shortly after.

In a statement Sunday, IDF confirmed that it was conducting an "operational activity" in Tulkarem last week when dozens of Palestinians began hurling stones at the soldiers. It gave no further details on the operation.

B'Tselem said the footage proves the IDF's account of the incident is false.

"When the incident was made public, the military responded by claiming that a 'violent disturbance of the peace had developed' in the area, that 'dozens of Palestinians were throwing stones' and that the soldiers 'responded with crowd control means and later with live fire,'" the organization stressed in a statement.

"The soldiers are seen walking unhurriedly, the Palestinians are seen talking amongst themselves, and then the soldiers fatally shoot Habali in the head from a considerable distance. The lethal shooting was not preceded by a warning, was not justified and constitutes a violation of the law," B'Tselem emphasized.

The IDF said in response that the incident is being investigated by the Military Police.

"When the investigation is completed, the findings will be examined by the Military Prosecution," the IDF Spokesperson's Unit added in a statement.