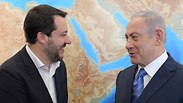 Benjamin Netanyahu and Matteo Salvini in Jerusalem, Demceber 12, 2018
Photo: Amos Ben Geshom / GPO
Prime Minister Benjamin Netanyahu on Wednesday called on the United Nations to rein in the Hezbollah terror organization, a week after Israel said it has exposed attack tunnels dug by the group from Lebanon into its territority.
Speaking after meeting with Italian Deputy Prime Minister Matteo Salvini in Jerusalem, Netanyahu said that the onus was on the international community to prevent Hezbollah's "acts of aggression."
Addressing Salvini directly, Netanyahu said: "You had the opportunity to see the terror tunnels yourself directly. This is a clear act of aggression of Hezbollah against us and against the norms of the international community."
The prime minister hailed Salvini as "a great friend of Israel," and called on the Italian-led United Nations Interim Force In Lebanon to take action on the tunnels.
"You have a commander in UNIFIL, an Italian commander," Netanyahu said. "We think UNIFIL has to do a stronger job, tougher job, but ultimately it's the responsibility of the international community. They should stop Hezbollah from taking these acts of aggression against Israel."
Israel announced Operation Northern Shield last week, aiming to locate and destroy tunnels Hezbollah has constructed across the Lebanon border since the end of the 2006 Second Lebanon War.
IDF troops on Tuesday uncovered a third Hezbollah tunnel, while Netanyahu warned the Iranian-backed group of an "unimaginable blow" if it chooses to retaliate to the destruction of the subterranean structures.
The Israeli military said it held the Lebanese government responsible for the tunnels dug from its territory.
"This is another blatant breach of UN Resolution 1701 and of Israeli sovereignty," the IDF said.
Ynet