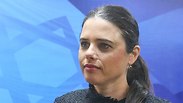 Justice Minister Ayelet Shaked
Photo: Marc Israel Sellem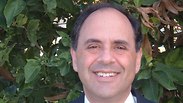 Minister of Justice Ayelet Shaked recently raised a new proposal for resolving the Israeli-Palestinian conflict. According to Shaked, Areas A and B in the West Bank (which are under the varying levels of control of the Palestinian Authority), Gaza and Jordan would form a confederation, while Area C would be annexed to Israel and Israeli citizenship granted to its hundreds of thousands of residents. Shaked acknowledged that the Palestinians will reject the proposal which, she said, sounds today like "science fiction", but expressed her hope that the Palestinians will change their position in the future. While we are at it, we can also wait for the Messiah.
The Palestinians believe, correctly or not, that the establishment of a state in the West Bank and Gaza alone, would mean that they were forfeiting their claim to 78% of historic Palestine. Minister Shaked now proposes that they further forfeit Area C, some 60% of the territory of the West Bank, and make do with Areas A and B. The latter actually comprise 169 enclaves within Area C and every time a Palestinian sought to cross between them they would enter sovereign Israeli territory. Minister Shaked is correct: the Palestinians will not accept the proposal. Not just today, but in the future, too.
If and when a Palestinian state is established, and if it expresses interest in forming a confederation, it is not inconceivable that Jordan would also be so inclined. The question is whether the minister understands that a confederation, by definition, is a political entity comprised of independent states, not a state and enclaves within its sovereign territory. Jordan has already rejected less implausible proposals.
As to Israel, were it not for the pesky fact that 3 million Palestinians live in the West Bank, there would actually be no reason to object to its complete annexation. There is, however, a virtually wall-to-wall popular consensus in Israel against a one-state solution.
Ever since then-prime minister Menachem Begin announced the "autonomy plan" in the 1970s, Israel's right wing has been flailing about, desperately seeking some magical formula that will allow it both to annex the West Bank and preserve Israel's Jewish character. For those of us who live in the real world, however, not in the alternative realities characteristic of science fiction tales, the dilemma is actually quite simple. Already today, some 40% of the combined populations of Israel and the West Bank are not Jewish. Had it not been for the disengagement from Gaza, there would already be an Arab majority.
In their blind folly, the annexationists are burying the future of the entire Zionist enterprise. There is only one solution to the conflict that both guarantees our national future, and meets the national aspirations of the Palestinians, and it remains the two state solution. Quite simply, there is no way to escape the choice between territory and demography. Every attempt to do so to date has failed and so will Minister Shaked's proposal.
Moreover, in order to prevent millions of Palestinians from entering its territory each day, Israel, under Shaked's proposal, would have to build a fence around the 169 enclaves with a whopping total length of 1,700 km, equal to the distance from Jerusalem to Tehran. Had the minister bothered to consult with the IDF regarding the costs and size of the forces required to secure a border this long, she would have learned that her proposal is simply baseless.
Most of the public does not believe that there is a realistic possibility of peace with the Palestinians for the foreseeable future and are deeply concerned about the security dangers stemming from a future agreement. Most, however, are also unwilling to acquiesce to the emergence of a binational state and thus oppose annexation. What is needed are new and realistic proposals for the interim period, such as that presented by the "Commanders for Israeli Security" (CIS), an organization comprised of some 300 of Israel's most senior former defense officials.
Pending a final agreement, and in order to preserve the conditions necessary to reach it, CIS proposes that the IDF continue to maintain military control over the West Bank, for security purposes, and that the security fence finally be completed, in order to prevent tens of thousands of illegal Palestinian workers, and potential terrorists, from entering Israel each day. Concurrently, a process of civil separation from the Palestinians would begin, including cessation of all settlement activity to the east of the security fence and beyond built-up areas, to its west. Assistance would be provided to those settlers who wish to return to Israel proper.
Minister Shaked is a highly talented woman, with a potentially far-reaching political future. Her proposal, however, lacks a basis in any rational concept of reality. Instead of writing the equivalent of "Ayelet in Wonderland", it behooves her to focus on proposals that have some bearing in reality.
Chuck Freilich, a senior fellow at Harvard's Kennedy School and adjunct professor at Tel Aviv University, was a deputy national security adviser in Israel. He is the author of "Israeli National Security: a New Strategy for an Era of Change" and a member of the steering committee of Commanders for Israeli Security.