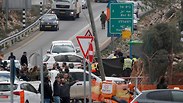 The site of a shooting attack in the West Bank, December 13, 2018
Photo: EPA
Beloved by all and always willing to help those less fortunate, a comrade said of the two IDF soldiers killed in Thurday's shooting attack in the West Bank.

Sergeant Yosef Cohen, aged 19 from Beit Shemesh, and 20-year-old Staff Sergeant Yovel Moryosef from Ashkelon were killed when a gunman leapt out of his car and opened fire as the two soldiers stood at a bus stop close to the West Bank outpost of Giv'at Asaf.

The attacker, who also seriously wounded two other people, fled the scene of devastation, sparking a massive manhunt.

"Everyone loved them," said M. "They were people who were always willing to volunteer. They would lend a hand to anyone who needed help. Good people, salt of the earth. Whenever the company sergeant major asked for help, they were always the first to volunteer, and they were very motivated.

"I remember when we were on a break, and one soldier had no money for a drink, so Yossi (Cohen) took out his wallet and bought it for him. He did not want everyone to have except for one person."

Yoseph's father, the late Rabbi Eitan Cohen, was a well-known dentist in Bnei Brak who served as a lone soldier because his ultra-Orthodox family would not accept his decision to enlist in the IDF.

Several hours before the shooting, Moryosef told his father on Whatsapp that he had volunteered to take over guard duty at the bus stop for some friends instead of going home—so that his friends could rest.

"His life's goal was to serve in a combat unit," said his uncle, Sammy Moryosef. "He insisted on doing combat service, despite the situation in Israel. He enjoyed his service, volunteered and gave it all."

"It's hard to grasp such horrible news, he was an amazing guy. It's difficult to speak about him in past tense," said his uncle. "We demand of the Israeli government that the terrorist is killed, even though his death will be of no comfort to Yovel's parents."

Yehudit Zada, a friend of the family, also remembered Moryosef as determined to serve in a combat unit.

Moryosef's former high school was opened Thursday evening for friends to pay their respects. Headteacher Alice Mor called said Moryosef "was a child of endless giving with an endless smile."

Sgt. Cohen will be laid to rest on Friday morning in Jerusalem and Staff Sgt. Moryosef will be buried on Friday morning in Ashkleon.