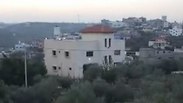 House of Barkan terrorist
The IDF on Monday morning partially demolished the house of a Palestinian terrorist who murdered two Israeli co-workers at a West Bank industrial zone two months ago.
Ashraf Na'alwa's house, in the village of Shweiki near Tulkarem, was demolished amid protests from the local residents, and after removing demonstrators who had arrived at the scene in an effort to prevent the house from being torn down.
The IDF demolishing the home of the Barkan terrorist
Na'alwa, 23, shot dead Kim Levengrond Yehezkel and Ziv Hagbi at the Alon recycling factory in Barkan, a place considered a symbol of coexistence, in October, after he arrived for work equipped with an M-16 rifle. Na'alwa fled the scene and it was only last week that the IDF tracked him down to a house in the Askar refugee camp in Nablus, following an intensive manhunt.
The Shin Bet said Na'alwa was armed when troops arrived at his hiding place. He was shot dead by the Israel Police's Yamam counterterrorism unit after a short exchange of fire. There were no injuries among the Israeli forces.
In an unprecedented move, GOC Central Command Maj. Gen. Nadav Padan issued a demolition order for house while the manhunt for the terrorist was still ongoing.
While the IDF and Shin Bet have yet to track the terrorist's entire escape route, an initial investigation found he first went north of the Barkan industrial area, and then later south to Nablus. Then, on Wednesday night, more than two months his deadly attack, security forces were able to track him to a small structure in the turbulent, crowded Askar refugee camp.
The Yamam force covertly raided the structure, where they found the terrorist, who opened fire at them with the same rifle he used to carry out his attack. He was shot and killed on the spot.
During the manhunt, Israeli security forces arrested and questioned more than 100 Palestinians on suspicion that they aided the terrorist or were aware of his terror activity. Some of the suspects, including the terrorist's father, were charged.
Interrogation of the suspects revealed that Na'alwa was planning to carry out another attack.
The IDF said catching the terrorist proved to be a challenge. "We were very close to him a few times and we missed him by a bit—he made almost no mistakes," an IDF source said.