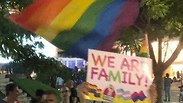 An umbrella group of religious organizations in Israel has launched a campaign condemning LGBT relationships and decrying same sex parenthood. The campaign also includes the dissemination of fliers advocating conversion therapy and social media posts.

"Choosing Family — the Movement for Strengthening Family Values in Israel", has launched a campaign in December declaring that "Homosexual relationships are like poison," "sexual tendencies can change," and "single parenting is immorale".

The new aggressive campaign was created by religious organizations who reject the LGBTQ community, and has been launched across the country and on social media, protesting the "new families'" right to have children.

The height of this campaign was an "awareness week" and a Tel Aviv rally, that presented the struggle's agenda as pro-traditional family structure. The campaign included brochures slamming the LGBTQ community, that were handed out in synagogues, outside schools and in youth movement venues.

Advertising stands were posted throughout the country, but special efforts focused on the center region and on Tel Aviv.

The Movement for the Strengthening of Family Values in Israel phrased a "questions and answers page regarding same-sex attraction" in preparation for their campaign.

According to the organization, "Israeli society is loyal to traditional Jewish values," but is "under fierce attack and victim to brainwashing from the LGBTQ community," who, it was added, "engages in media terror against those who don't walk 'the pride way', and labels them as dark enemies of progress."

"Those who only several years ago were outcasts, came together and created massive changes regarding their community," the pamphlet said. "Their struggle is aggressive, and they force their whole world of values, language and behaviour on all of society."

Campaign leaders said they are not going against people's right to live their lives, but rather against "those who made their sexual preferences their central identity theme."

The pamphlet further said that Lesbian women and Gay men can overcome their sexual preferences and change it: "when a man is really hungry and is shown something tasty, he has a strong passion to eat. But, once this man is made clear that there's poison in this food, that will cause his immediate death, the passion and hunger goes away and is replaced with repolse and rejections," said reading materials.

There was also mention of "conversion therapy": "from a therapeutic point of view, it's clear that in many cases, a person's tendencies can be influenced. Unfortunately, because of the gay struggle, conversion therapy has been labeled as wrong, and therapists who perform these treatments feel threatened. There is an atmosphere of silencing, and only research portraying one side is addressed."

Brochures also stated that sex-change operations are in fact conversion therapy, and are more dangerous than therapy meant to change sexual tendencies.

The questions and answers pamphlet determined that the LGBTQ demand to have a family, under the slogan "a right for parenthood" is 'immoral, supports human trafficking and detaches men and women from their responsibilities as parents'.

"We detach children from their parents and make them orphans from the moment of birth. We deny their basic right to know their parents and grow up with them," it said.

Rabbi Azriel Ariel, head of Choosing Family the Movement, said that, "ever since the Creator of the World determine that 'It is not good for the man to be alone. I will make the woman to be an authority corresponding to him,' family has been the most ancient and sacred of social institutions. The values of family are holy, and upon them lie all values needed for a healthy, morale human environment: fellowship, acceptance, devotion, loyalty and responsibility for others."

Meanwhile, as the campaign set off, two young men living in a Tel Aviv apartment were verbally attacked and threatened, after they put up a Rainbow Flag on their balcony. The two flatmates, one of whom gay and the other straight, said neighbors started harassing them in the past week. "We got threatening letters, saying 'take down that flag or you'll experience inquisition," the two told Ynet.

"You're inside the apartment, you can't see the flag you put up. But for us it's like a muleta," wrote the neighbors.

In response to the inciting campaign, the gay community had begun fighting back, with representatives saying they have zero tolerance for campaigns hurting their community.

"Like thousands of gay people, I chose parenthood," said Itay Pinkas Arad, Tel Aviv city councilor member who serves as chairman of the gay center in Tel Aviv. Arad is married and has three children with his partner Yoav. Togather they lead the LGBTQ protests and high court of justice motion calling for surrogacy rights in the past year.

"Life is stronger than hate-instigators, most of whom live on our expense and spread their venom. Our families are beautiful families that don't need a permission to exist from anyone" he said.

Roi Neumann, an LGBTQ activist and participant in the recent protest, resents the institutional support of religious bodies that lead such campaigns. "The Israeli government continues to fund organizations that incite to violence with millions of Shekels worth of support. In recent years there have been a significant rise in attacks on members of the LGBTQ community. There's been severe physical violence and verbal terror. It's time to investigate those who instigate these events."

"There's neither ideology nor Judaism in this campaign. It's an ugly, disgusting provocation. Whoever tries to build his political power on the basis of LGBTQ phobia is to discover we have zero tolerance for this," said Hen Arieli, chairman of the LGBTQ Association.