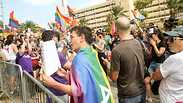 LGBT protest
Photo: Yariv Katz
About 80,000 Israeli LGBT advocates and their supporters took part in a demonstration supporting the LGBT community in Tel Aviv's Rabin Square, protesting the exclusion of gay men from a recently passed surrogacy law.

On the eve of a day filled with demonstration, thousands of LGBT members gathered in Tel Aviv in protest of the surrogacy law that discriminates against them. Protesters marched in Tel Aviv and other Israeli cities waving rainbow flags. The LGBT community is furious with Prime Minister Benjamin Netanyahu, who pledged to pass legislation supporting surrogacy for gay fathers, but then voted against it.

The LGBT community is taking to the streets using shouting "We will not be silent anymore!"

At 6pm a march in support of the trans-community began, with about 1,000 demonstrators. The demonstrators are marching in protest of the stabbing of a trans-community member last week in Tel Aviv.

At 7pm another demonstration started. According to one of the rally's organizers, "Many of us in the community are still living in the threatening shadow of violence, it is a vicious cycle of prostitution, humiliation, and the ignorance of the medical and therapeutic establishment, poverty, lack of employment, lack of security, and discrimination in housing."

Mia Hadad, the transgender who was stabbed last week, said: "We are not animals and we need our rights ... I went through a very difficult experience last week and I turn to everyone and say, 'enough is enough, It's hard on everyone.' It is hard to describe it, and to go through this thing."

"I was ventilated, anesthetized and saved in the last minute. I thank you all for coming and for supporting me. We are a proud community because we are proud of ourselves. We do not hide in closets, we are equal like everyone else, we do not see the difference, and we must not give in to those who exclude us. Do not give up," Hadad concluded.

LGBT Association Chairperson Chen Arieli denied reports that members of the community had been invited to a meeting with the prime minister: "no one is talking to us in press releases, but in actions. When we see steps taken—then we will consider attending such a meeting. No official appeal was made to the community organizations. We will continue to fight until we see actions, rights and legislation. We are through with empty meetings."

The demonstrators are shouting "Eight billion people - why only two genders?"; "The government establishment constantly discriminates against me"; and "neither left nor right will determine my sex."

The demonstrators also cry "Transsexuals will not keep quiet, they are revolutionists"; "Do not preach — I am proud of every gender"; and "No one but me will decide if I am a man or a woman."

"We are fighting for our freedom," Elisha Alexander, director of Ma'avarim — Israeli Trans Community organization, told Ynet. "We have not even begun our fight. Marriage and parenting are important issues, but we must put an end to the discrimination against the gay community. As long as we ignore it, 'gay' will continue to be the worst curse word used in schools," Alexander said.

"As long as they do not understand that the Trans' struggle is the spearhead of the LGBT struggle, we will continue to succeed in the media and lose in the fight against daily violence experienced by youth, elderly people, and transgender people. As long as they do not reinforce the trans-community, the proud struggle will remain at a standstill," the activist continued.

"We challenge the silly division between boys and girls, blue and pink, and society that decides for us how to dress, behave, and who we love, a society that drives us to prostitution and poverty. Everyone says we are a weak community. We are not weak, we pay a heavy price, because our very existence makes a difference in the world, our very existence makes this world better and more free, for everyone who knows us," Alexander declared.

Since Sunday morning, thousands have demonstrated throughout Tel Aviv and other cities. Among the speakers at the rally in Rabin Square are Chairman of the LGBT Association Chen Arieli, representatives of Ma'avarim organization, Maya Arbel and Lioz Levy, petitioners to the Supreme Court, Orly and Ravit Wiselberg Tzur, Thaline Abu Hanna, former MK Uzi Even, Efrat Tilma, Itay Pinkas Arad, Nadav Tzubari from Kibbutz Nahal Oz and Shirli, mother of a transgender boy. Visiting artists: Rita, Orna Banai, Corinne Allal, and Ran Danker. Hosts: Nadav Bornstein and Lucy Aharish.

About 150 protestors demonstrated in Jerusalem. Police arrested two of them because the demonstration was allegedly illegal, but later released the two. People demonstrated In Haifa, Be'er Sheva and other cities. Roy Neumann from Pink Panthers organization in the US arrived this morning to Rothschild Boulevard in Tel Aviv and joined the LGBT community's protest.
Time for equal rights
The actor Dov Navon, married with children, explained why he joined the protest: "I really felt that enough is enough, these are people who give and receive nothing in return. It's time for them to receive equal rights. It is inconceivable that someone who lives in this place does not have equal rights, at the bare minimum. I felt that I had enough. There are first class citizens and second class citizens," Navon said.

"This is the natural continuation of the social protest that began a few years ago. The surrogacy law , the nationality law, the arrest of a Conservative rabbi— People serve the state, give their all, and at the end of the day, the state kicks them, and decides, in the most immoral way possible, to enact laws because a certain group said so. It's immoral, it's impossible and the silence is over. Now is the time for a protest of liberalism, of our existence as an Israeli society," the actor concluded.

The surrogacy law passed on Wednesday. According to the new law, single mothers and heterosexual couples who cannot have children can use the services of a surrogate mother to become parents.However, the law excludes homosexual couples, preventing them from becoming parents through the surrogacy process.