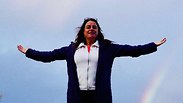 Rona Ramon
Photo: Ramon Foundation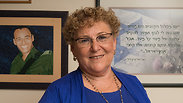 Miriam Peretz
Photo: Yoav Dudkevitch
The Rona I knew, knew the skies well. At first through Ilan, and later through Assaf. There are times, like today, when I look to the skies and I don't understand. There are no words and no explanation of why Rona is also gone.

I felt the same when my son Uriel fell in battle, when my husband Eliezer passed away, when my second son Eliraz also fell in battle, and when German Rozhkov, an only child whom I adopted as a son, fell in battle as well. I felt the same when I heard about Rona's son Assaf, and today I felt it again when we learned Rona is gone. I face these skies that Rona knew well, and I have no words.

I met her many times, but three encounters stood out the most.

Rona and I were introduced by fate - the connection to the Land of Israel, to the IDF and to education. But before anything else, we were both wives and mothers. And what a mother Rona was. One of our moving encounters was during a delegation to Odessa. We went together, a group of women, to accompany orphan children on their first day of school.

We walked into the room and the children, like magnets, were all drawn to Rona. They walked up to her, started hugging and embracing her—as if she was their favorite person in the world. I asked her, "Rona, why is everyone running to you like this?" And she said, "The children feel love, and they immediately connect with that love." That was Rona, she knew how to give of herself to everyone.

I was reading some of Ilan's journal entries, which Rona published in 2013, from the days he was preparing for his fateful 2003 space mission. He wrote to her: "Rona'leh, I think you have a good soul, you take such good care of everyone, except yourself. I want us all to have the best. You are my heart and soul. I want to take care of you a little, to give you only a bit of what you give us all the time."

Rona gave of her great love to the children of Israel as well, in projects she initiated in memory of Ilan and Assaf.

Our second encounter, which I will never forget, was at a meeting for torchbearers ahead of Israel's 68th Independence Day in 2016, when Rona got to light a torch. Since I had had the honor of lighting a torch two years prior, she turned to me and asked: "How, on this immense occasion, can we get through the switch from Memorial Day to Independence Day?" (In Israel, Independence Day begins as nightfalls on Memorial Day — turning sadness into joy.)

We fell into each other's arms. We wept at the fact our loved ones were not here with us at this powerful and emotional moment. But then she laughed and said: "I have the advantage: Yours were ground troops. Mine were always looking down from the skies." We could then cry in each other's arms and laugh at our fate.

Our third encounter was when she invited me to attend one of her lectures. Afterwards she walked up to me and asked: "How long can we go on talking about them?" We stopped for a moment, looked at each other, and we knew — it would be until our dying days. Rona carried Ilan and Assaf's legacy with her until her final moment. When she published Ilan and Assaf's journals, she wrote to me in a dedication: "May we continue creating and influencing." Despite everything she went through, what Rona cared about most was to keep creating and making a difference.

The story of the Ramon family is the story of the people of Israel. Of people who soar, who don't give up and who keep on going, people who reach for the stars.

I have an image in my mind that must be in the minds of many bereaved families: the day when we will all be united once more with our loved ones. I imagine Rona, who is being reunited with her loved ones at this very moment, see Ilan and Assaf again and ask: "Did you hear me? Did you hear me trying to ensure your voice is heard? I tried. I did my best."

And now Rona's voice is no more. But her spirit—the spirit of a mother, of a brave warrior, of sticking to life, of love and endless giving, of hard work and creation—remains with us. This spirit, Rona, we will preserve—for Ilan, for Assaf, for you and for us.