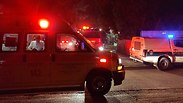 MDA ambulance (file photo)
Photo: MDA's Spokesperson
Magen David Adom (MDA), Israel's national emergency medical service organization, filed a NIS 2.6 million lawsuit against United Hatzalah, a volunteer-run paramedic services organization based in Jerusalem, for allegedly spreading false reports "in an attempt to discredit and delegitimize MDA's work."
According to MDA, Hatzalah spreads false publications "meant to pressure the Ministry of Health in their decision regarding a national emergency call center".
"Instead of focusing on their work and on saving people's lives, the defendants are busy telling lies and making deals," said the lawyer who represents MDA.
As part of its national duties, MDA is responsible for operating a national call center for all emergency medical services in the country, including those given by United Hatzalah. A Ministry of Health decision has previously determined that all emergency calls would be received by the 101 call center operated by the MDA.
However, MDA claims that "despite the clear and explicit instructions given by the Ministry of Health, United Hatzalah established its own emergency call center (1221) and operated it."
"They also spread false information," the MDA representative said, "and claim that making a call to 1221 is the same as calling 101."
Following these events, as of July 2017, the Ministry of Health determined that United Hatzalah is to stop promoting their call center, and that all emergency calls should be immediately transferred to the MDA.
"These new guidelines angered Hatzalah, who started attacking MDA and spreading incorrect information, saying that the Ministry of Health does whatever the MDA tells them to," MDA representative said.
United Hatzalah responded that "MDA's management continues to act aggressively in order to maintain their monopoly over saving lives in Israel. This time they're doing it with this lawsuit, meant to silence and scare us."
"We can't comment since we haven't seen all the lawsuit details, Hatzalah continued. "Still, we can say that this will not deter our medical staff, made up of 5,000 people who will continue to volunteer in order to save lives."
"The sum MDA is suing for only comes to show that they work for profit, and have been making large sums of money at the expense of the Israeli public. This time, they're trying to do so at the expense of 5,000 volunteers," Hatzalah concluded.