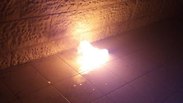 Molotov cocktail in Ma'ale Hazeitim
Molotov cocktail attacks threaten to drive Jewish families out of East Jerusalem
Residents of Ma'ale Hazevim settlement say their building was torched by dozens of explosive devices thrown within the last month by locals from the Arab Ras al-Amud neighborhood; police reportedly close cases due to 'lack of public interest'
Jewish families living in a settlement inside an Arab area of East Jerusalem say they are contemplating leaving the area after 15 Molotov cocktails were thrown at their apartment building within a month and police do not seem to care.
The residents of Ma'ale Hazeitim, in the neighborhood of Ras al-Amud, say that despite multiple complaints to police, the cases were closed due to "lack of public interest and absence of evidence."
Overnight Sunday, another two Molotov cocktails were thrown at the balcony of the Givon family and landed less than a meter from the bedroom of the two children who were sleeping there. Already accustomed to the situation, the family used a hose to extinguish the flames.
"We woke up at around 1am after hearing sounds of an explosion … miraculously no one was hurt and we extinguished the fire. The whole house smelled of fuel," said Carmel Givon, the mother of the family. "We had an amazing balcony, but after all the Molotov cocktails that have landed there, we had to throw everything away."
"The police called me last night after the incident, they already have my number due to multiple complaints I've filed, and said they wanted to come over, but I told them that I did not want the children to wake up," she said. "Last time it happened, the 5-year-old got woken up and had a million questions. I will not file anymore police complaints, it's pointless."
"I have no intention of living in a place that is so dangerous," Carmel said, "but moving in the middle of the school year with two children is not easy. At the same time, this reality is not easy for the children as well … they have post-traumatic stress disorder."
The police denied the claims that law enforcement officers were slow to act on the issue.
"Two weeks ago, an indictment was filed against a suspect who threw Molotov cocktails in the eastern part of the city … In recent years, the police carried out many activities, including undercover operations aimed at thwarting the hurling of stones and Molotov cocktails, which led to arrests and indictments," the police said in a statement.
"The Israel Police will continue to act decisively in order to protect the residents from any threat or nuisance that disrupts their daily lives," the statement said.