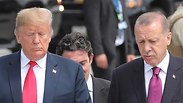 Trump and Erdogan
Photo: EPA
US President Donald Trump told Turkish President Tayyip Erdogan that Syria "is all yours" as the two leaders the two leaders discussed the withdrawal of US troops from the war-torn country in a heated phone conversation, according to a report Sunday by CNN.

On Wednesday, President Trump announced the withdrawal of all US troops from Syria, which has been sharply criticized by many, especially by America's Kurdish allies, who may well face a Turkish assault once US troops leave, and had been staunchly opposed by the Pentagon.

In a phone call between the two leaders, Erdogan also expressed satisfaction with steps taken by Washington regarding combating terrorism in Syria and the problems that are created by US presence in the region ,and said Turkey was ready to provide any type of support, the Turkish presidency said.

CNN reported that Turkey's leader complaints and attempts to convince Trump to pull out from Syria, due to his assessment that Islamic State (IS) has been defeated in the country,left the American president irate, which promped him to lash out over the phone, saying "OK, it's all yours. We are done."
I just had a long and productive call with President @RT_Erdogan of Turkey. We discussed ISIS, our mutual involvement in Syria, & the slow & highly coordinated pullout of U.S. troops from the area. After many years they are coming home. We also discussed heavily expanded Trade.

— Donald J. Trump (@realDonaldTrump) December 23, 2018
During the December 14 phone call, Erdogan also reportedly promised Trump that the remaining IS fighters will be defeated by the Turkish military as long as US continues to provide them logistic support, saying "as your friend, I give you my word in this," said one senior White House official.
The two leaders reportedly agree to coordinate to prevent an authority vacuum from developing as the withdrawal process begins.