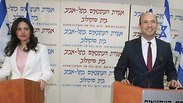 Bennett and Shaked announce their new pary
Photo: Motti Kimchi
Education Minister Naftali Bennett and Justice Minister Ayelet Shaked announced Saturday evening that they are to list a new party called the New Right, and are splitting from Jewish Home party.
The new party aims to appeal to both secular and religious rightists, and Shaked highlighted what she said was the importance of cooperation between the two sectors, personified by her and Bennett.
"I'm secular and he (Bennett) is religious; it's a true partnership," she said. "I am grateful that religious Zionism opened its door to me, I feel at home and I have great affection for this sector. We've become an influential power together; a small party with a big impact and many achievements."
But, Bennett added, the influence that the Jewish Home party enjoyed in the coalition had waned, and he accused Prime Minister Benjamin Netanyahu of discarding them and their agenda.
"Previously, we were able to block such moves as releasing terrorists or founding a Palestinian state, but we've lost our ability to influence (the government) " he said. "The prime minister sees that he has the religious Zionists in his pocket and that they'll go wherever he leads."
Bennett echoed Shaked's assertion that their party would be an amalgam of secular and religious right-wingers.
"We offer a true partnership," he said. "My wife Gilat's family is secular, but we're one family. The new party is right-wing, no ifs and no buts... It's a new right for religious and secular people."
He added: "We're off to a new start and offer an alternative for national leadership. The New Right is the true right."