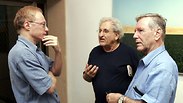 Left to right: David Grossman, A. B. Yehoshua, and Amos Oz
Photo: Gettyimages
Amos Oz was a generous and wise man. Anyone who had the good fortune of sharing a cup of coffee with him in the morning, even those who did not see eye to eye with him, got to hear him analyze our reality with wisdom. He had a deep understanding both of human nature and the nature of politics.
Amos Oz had a broad perspective. I felt so educated and enlightened after every meeting with him. There is no doubt he was one of the greatest writers of Hebrew literature, and one of the greatest literary figures in the world.
He influenced many writers of my generation and of the generation that followed. His book "In the Land of Israel" had a tremendous impact on me as I began writing my book "The Yellow Wind." I remember reading this book for the first time. Almost after every chapter, I had to put down the book and take a deep breath. When do I feel influenced by an author? When I finish a book, and the desire to write stirs within me. Not necessarily to write like the author, but to write simply for the joy of creation. I have experienced that feeling more than once after reading an Amos Oz book, and especially after reading his novel "A Tale of Love and Darkness."
This creation describes like no other the great story of our lives here in Israel, and the complications they entail. I've heard hundreds of people, who had neither the understanding nor the affinity for Israel, say that reading his works suddenly gave them insight into the Israeli situation, Israeli anxieties, Israeli self-inflicted failure, and the greatness of the fact the State of Israel exists.
Amos managed to convey all of this through his personal story, his unsentimental childhood biography, and the way he slowly opened up to his readers. I've always felt that "A Tale of Love and Darkness" underwent a process of nationalization, of becoming state property. "What's in an Apple" is the reclamation by Amos of this nationalization because it showed him as his friends knew him—open, and with an extraordinary sense of humor and Irony. These two books describe quite accurately the Amos I knew.
He always shared his infinite love. Even when the both of us competed over the Man Booker Prize. Amos did not attend the award ceremony. When I won, I explained how difficult it was for me that Amos was not there, and I quoted Isaac Newton's statement that, "If I have seen further, it is by standing on the shoulders of giants." I feel that I and the rest of my generation indeed stood on the shoulders of giants—Amos Oz and A. B. Yehoshua, may he live a long life. I knew Amos went to bed early, so I didn't call him when I won. But I did so the next day and we had a very warmhearted conversation.
When someone of the caliber of Amos Oz is taken from us—and I think many Israelis feel the same, even those who didn't agree with him—something is diminished. Amos Oz will no longer be the scribe of our reality, because there isn't another like him. His passing evokes pain and loss. For it is truly sad.