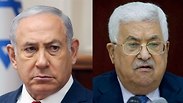 Netanyahu and Abbas
Photo: AP
The security cooperation between the Palestinian Authority and Israel hangs in balance due to a new US legislation, which is expected to take effect next month, that threatens to bankrupt the government in Ramallah and collapse its security apparatus.
The Anti-Terrorism Clarification Act, which was signed into law by President Donald Trump back in October and recently approved by the US Congress, would allow US authorities to seize assets from any foreign "terrorist entity" that receives financial aid from the American government.The law would also permit any US citizen to sue the PA for its involvement in terror activity and be compensated by the money received through financial aid.
In order to avoid being subjected to controversial lawsuits, the PA's leadership might reject any kind of financial aid from the Trump administration, including the funds meant to preserve the coordination between the PA and Israeli security forces in the West Bank.
As a result the PA and its security forces might find themselves destitute, which would not only end the cooperation with Israel but also significantly strengthen Hamas in the West Bank and unleash a wave of terror attacks.
The legislation was initiated by those who unsuccessfully attempted to sue the PA for its involvement in the terror attacks during the second intifada, when Yasser Arafat was still at the helm of the Palestinian government.
The security apparatus in Ramallah is the only area still eligible for US financial assistance—believed to be in the region of $61 million annually—after earlier this year the State Department announced that Trump administration decided to cut more than $200 million in bilateral aid to the Palestinians, following a review of the funding for projects in the West Bank and Gaza.
Over the past month, the Trump administration have reportedly been scrambling to amend the legislation in order to ensure the US security assistance to the PA continues.
A senior Israeli official told Ynet that Israel has also been working behind the scenes to ensure the law is amended, and once the US Congress returns from the Christmas break, there is a "reasonable" chance the legislation will indeed undergo the necessary changes.