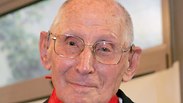 Georges Loinger
Photo: AFP
The French Jewish resistance fighter who saved hundreds of Jewish children from the Nazis during World War II died in Paris on December 28, at the age of 108.
The death of Georges Loinger was announced by the Holocaust Foundation of France, which hailed him as "an exceptional man."
Loinger saved some 350 children by sending them to Switzerland between April 1943 and June 1944. The BBC said that he would convince the children to cross the French-Swiss border by kicking a soccer ball across the frontier and telling the children to chase after it.
"I spotted a football pitch that was on the border," the BBC quoted Loinger as saying.
"It was made up of fences two-and-a-half meters high. I saw that there was nobody," he said. "I made the children play, I told some of them to lift up the fences and I passed the ball."
This was only one of the games with which Loinger encouraged children to cross the border into freedom. "Another one of his ruses involved him dressing children up as mourners and taking them to a cemetery whose wall abutted the French side of the border. With the help of a gravedigger's ladder the 'mourners' would clamber over the wall and head for the border just feet away," said the Guardian in its obituary.
Loinger's ball games were only possible for a while, before the Germans manned the Swiss border. "The Italians left France and the Germans came in. It became too dangerous to play ball with the children like this. With the Germans we didn't play these games," Loinger said in an interview with Tablet Magazine.
Born in Strasburg in 1910, Loinger was the cousin of another well-known French Jewish resistance fighter, the mime artist Marcel Marceau. He served in the French military, and was captured by the Germans in 1940, but was able to escape a prisoner of war camp in Germany. Thanks to his fair features and athletic figure, the Germans never suspected his Jewish origin."Sport made me the opposite of an anguished Jew," he told the Tribune Juive, "I walked with great naturalness."
Loinger returned to France, where he joined the Oeuvre de Secours aux Enfants, a children's aid organization through which he was able to smuggle children across the border. After the war, he received the Resistance Medal, the Military Cross and the Legion of Honor for his heroic actions.