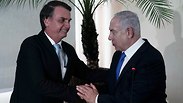 TEHRAN - Iran has denounced plans by Brazil's newly elected president elect Jair Bolsonaro to move its embassy to Jerusalem.

Foreign Ministry spokesman Bahram Ghasemi said Monday that such a move "will not help with peace, stability, security and retrieval of the Palestinian people's rights." He added, however, that "relations with Brazil will eventually be continued."

Bolsonaro has come under intense pressure from Brazil's powerful agriculture sector not to move its embassy, as it could hurt Brazilian exports to Arab nations.

Such a move by Bolsonaro would be a sharp shift in Brazilian foreign policy, which has traditionally backed a two-state solution to the Israeli-Palestinian conflict.

The Arab League had told Bolsonaro that moving the embassy to Jerusalem would be a setback for relations with Arab countries, according to a letter seen by Reuters earlier in December.

Israeli Prime Minister Benjamin Netanyahu, who is visiting Brazil, said Sunday it is only a matter of time until Brazil moves its embassy to Jerusalem. Incoming President Jair Bolsonaro said last month that he intends to move the embassy, prompting threats by Arab states to boycott Brazilian goods.

Netanyahu, who met with Bolsonaro on Friday, said that the Brazilian accepted his invitation to visit Israel, a trip that is likely to take place in March.

Netanyahu is the first Israeli prime minister to visit Brazil.