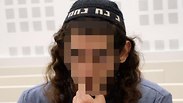 Teen suspected of Jewish terrorism
Photo: Shaul Golan
The Central District Court in Lod on Tuesday threw out a confession given by an Israeli minor detained as part of a far-reaching investigation into Jewish terrorism, on the grounds that it was extracted by unlawful means and under duress.
The teen has been charged with several racially motivated offenses, including arson and damage to property in a 2013 attack at the Abbey of the Dormition in Jerusalem. During the attack, graffitti reading "Christians are monkeys" and "Christians are slaves" was sprayed on the walls of the church.
The youth was also questioned on suspicion of involvement in the deadly Duma terror attack of 2015, in which three members of a Palestinian family died in a fire started by Jewish extremists at their West Bank home. The court, however, found he was not involved in the attack.
The decision to throw out the teen's testimony was made after his attorney, Itamar Ben-Gvir, argued that the Shin Bet domestic security service and the police unlawfully obtained the confession from his client, who admitted to carrying out the hate crimes while he was in custody in Acre.
On Thursday, the investigative television program Fact reported that the youth had been placed in a fake prison cell in Acre Prison, while policemen disguised as his cellmates applied massive pressure on him to confess to his actions, including stopping him from sleeping and eating.
One of the policemen played the role of a prisoner serving a murder sentence, and officers even planted fake drugs under his mattress to pressure him.
Ben-Gvir argued in court that a red line had been crossed and that unacceptable investigative measures had been used to get the confession.
Throwing out the confession, Judge Michal Brandt called the behavior of the police "unfair, to say the least, as well as offensive and threatening," the Times of Israel reported.
Ben-Gvir praised the court's decision, saying his client had been denied his basic rights.
"This is an important day for Israeli democracy. The time has come for the Shin Bet and the police to know that the Hilltop Youth (young exteme-right settlers) also have basic rights. All red lines have been crossed in this investigation. I'm glad the court accepted our claim and disqualified the confession," Ben-Gvir said.
The Central District Prosecutor's Office said in a statement that they may rethink their strategy in light of the ruling.
"The defendant was charged with severe offenses, whose ramifications are also felt in internationally. The police and Shin Bet used measures they believed to be within the boundaries of the law. The court rejected the confession given by the minor under these conditions, and we will thoroughly review the court's decision and consider our future actions."