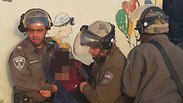 Israeli forces evacuate settlers from Amona
Photo: Mateh Binyamin
23 police hurt, 300 settlers removed in violent evacuation of Amona outpost
Police and Border Police forces are pelted with rocks and stones while evacuating settler youth who barricaded themselves in the illegal outpost, which was evacuated two years ago. The youth returned to the outpost in protest of recent Palestinian terrorism.
Twenty-three police officers and three civilians were wounded Thursday morning as Israeli forces evacuated some 300 settlers who have recently returned to the illegal outpost of Amona.
The settlers barricaded themselves in two mobile structures at the former outpost, which was evacuated less than two years ago under a court order. They returned to the outpost last month in protest of a recent outburst of Palestinian terror attacks, which claimed the lives of two soldiers and prematurely born baby.
Police and Border Police were faced with violent rioting by the settlers, who hurled rocks, stones and metal objects at the forces, as well as burned tires and poured oil on access roads to the outpost. Seven settlers were arrested.
Violence during Amona evacuation (צילום: מטה בנימין )
The 23 police officers were lightly hurt, mostly from stone-throwing, with one officer stabbed with a sharp object.
At least five Border Policemen and one civilian were taken to the Hadassah Medical Center in Jerusalem's Mount Scopus to receive treatment.
After the settlers were evacuated, Israel's Civil Administration began work on evacuating the caravans they brought with them.
The settlers returned for ceremonial event at the Amona outpost in the Mateh Binyamin region, which was February 2017 following a court ruling that it was built on private Palestinian land.


During the event, they placed two units on plots of land they said former Amona residents purchased from Palestinians, with the assistance of private investors and donors.
The event was attended by members of the Mateh Binyamin Regional Council, Shomron Regional Council head Yossi Dagan, MK Bezalel Smotrich of the right-wing Bayit Yehudi party, and Avichai Buaron, a representative of the residents of the outpost.
"After two years of this place being uninhabited, we are fortunate to resume Israeli life here," said Yisrael Gantz, head of the Mateh Binyamin Regional Council. "The plots upon which we erected the structures were legally purchased. Yesterday, I promised to establish a new settlement in Binyamin in response to the deadly attacks and today we are carrying it out."
Avichai Buaron, who led the Amona residents in recent years, said: "The night we were expelled from our homes we swore to do everything to bring back Jewish life here, to raise the Israeli flag high up so that all our enemies will know—we will be victorious! This land is our home and we will fight for our home to the end."
The settlers then petitioned the High Court of Justice seeking a temporary order to allow them to stay at the outpost but were rejected out of hand, with the state informing them on Monday that they had to evacuate within 48 hours, which expired on Wednesday night.