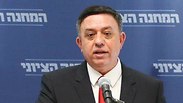 Labor leader Avi Gabbay
Photo: Ohad Zwigenberg
Labor Party leader Avi Gabbay responded defensively to criticism of the way he split from MK Tzipi Livni and her Hatnua Party, implying that he was the real victim of their failed partnership.

"I grew up in 'hood. In the 'hood, I learned that if someone hits you, you hit back rather than rush to make peace," Gabbay told Yedioth Ahronoth, explaining why he chose to surprise Livni at a press conference rather than tell her in private of his plans.

He claimed he suffered from the partnership with Livni and was himself humiliated when she demanded the opposition chairman position during a public faction meeting, making that as her condition to the continuation of the partnership between their parties.

"At a certain point I realized we won't get anywhere with this partnership with Tzipi Linvi. And if she doesn't contribute to winning, and she's not a true partner to our path, and she has no loyalty or respect to agreements—then there's no point. There was no loyalty," he said.

Gabbay said Livni has never agreed to commit to not joining a government led by Prime Minister Benjamin Netanyahu, something he is basing his campaign on.

"I said we won't join a government led by Netanyahu. I don't rule out people, and this isn't even about the investigations (against the prime minister). I won't join a government headed by Netanyahu because he doesn't want to make a change. And Tzipi's not with us. She wouldn't agree to say these things. This is a very big gap," he said.

The Labor leader said Livni had sabotaged the Zionist Union's election campaign a day after the announcement on the dispersal of the Knesset.

"From the moment elections were called, she started with all of these speeches about 'ego.' I realized she was saying the exact opposite of what our campaign was about," he said.

Gabbay said he will not allow any other candidate to lead the Labor Party or the left-wing bloc in the coming elections, and that he was certain he would be able to convince the general public he was the right and most worthy candidate to lead to change.