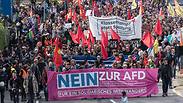 Protest organized by AfD party
Photo: EPA
German cinema offers free Schindler's List screenings to far-right party members
Cinexx movie theater in Hechenberg says Holocaust Memorial Day screenings of the film, which depicts a German businessman saving Jewish lives in Nazi-occupied Europe, can be attended by Alternative for Germany party members free of charge.
A cinema in Germany sparked a political row after it offered members of the far-right party Alternative for Germany (AfD) free entry to screenings of the movie Schindler's List. The movie tells the true story of German industrialist Oskar Schindler, who saved the lives dozens of Jews in Nazi-occupied Europe. The Cinexx movie theater in the town of Hechenberg decided to screen the film on January 27, which is International Holocaust Remembrance Day.
Cinexx made the offer to members of AfD, which has 12 percent of the seats in the German parliament, as party officials previously made disparaging statements about the Holocaust. The AfD members did not view the offer favorably, and reacted in an angry manner and claimed they were being persecuted.
"This is another example of discrimination when it comes to people who hold different political views," the party said via their Twitter account.
One right-wing blogger hinted that public relations stunts aimed against the AfD members may lead to violence.
"I would advise not to overreact, but at some point, someone is going to turn on you .. . there are a lot of crazy people out there and it's easy to make homemade explosive devices," said the blogger.
In the wake of the political storm over the offer, the cinema issued a statement saying they didn't mean to "slander" the far-right party.
"We didn't try to suggest that AfD voters are Nazi sympathizers. If they need clarification about certain historical events, it's up to them, but in the past they've shown contempt for the events depicted in the movie," the statement said.