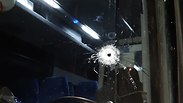 The windshield of the bus that came under fire near Beit El
Photo: TPS
An Egged bus number 140 came under fire shortly after midnight on Sunday while it was making its way from Jerusalem to Beit El in the Binyamin region of the West Bank.

The bus driver was lightly hurt from glass shards and damage was caused to the bus's windshield.

IDF soldiers launched a search for the perpetrators in the roads leading to the nearby towns of Al-Bireh and Beitin, as well as in nearby parts of route 60.

In the wake of the attack, drivers of buses going to Beit El asked not to travel on that road, saying it does not have sufficient security.

"We won't endanger ourselves. You go on this road, and you don't see any security personnel there," one driver said.

This is the fourth attack in the area over the past month. Some of the members of the terror cell behind the previous attacks have already been eliminated or captured.

Over the weekend, the IDF and the Shin Bet continued the hunt for the remaining attackers behind at least two of the three previous shootings in the area—at the Givat Asaf Junction and the Ofra Junction.

Israeli security forces are now investigating whether there is a connection between the latest attack and the previous three.