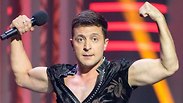 Volodymyr Zelenskiy
Photo: Facebook
When life imitates art: A Jewish comedian who plays the president of Ukraine in a hit TV show is now actually running for the position in real life. Vladimir Zelenskiy, who stars in "Servant of the People," has founded a political party of the same name, and recent polls even put him in second place in the March 2019 vote.
Zelenskiy stunned the country's political establishment last week when he announced his candidacy. In "Servant of the People," he plays a schoolteacher who suddenly finds himself running the country when a video of his tirade against government corruption goes viral.
Initial polling placed Zelenskiy in second place with 15% of the public's support. Former prime minister Yulia Tymoshenko was ranked in first place with 18% of the votes. Yuri Boiko comes in third with 11.8%, and Anatoliy Hrytsenko was placed fourth with 11.2% of the public's votes. The incumbent, President Petro Poroshenko, was placed fifth with a meager 8.6%. According to the polls, Zelenskiy is considered the most viable of the presidential candidates, attracting mostly young voters.
Zelenskiy, 40, was born in Krivoy Rog, a city in the Dnipropetrovsk region of Ukraine. In recent years, he has hosted Ukranian hit morning television show "Quarter 95" on the "1+1" television channel owned by Ukrainian-Israeli billionaire Ihor Kolomoyskyi, who is at odds with Poroshenko.
Volodymyr Zelenskiy speaks Hebrew on his show
The comedian slams all politicians on his shows and blames the government for Ukraine's economic crisis. He is considered one of Ukraine's most popular personas, and his hit TV show, which also has a large viewing audience from Israel and Russia, receives the highest ratings in the country.
If polls in Ukraine are accurate, then Zelenskiy is likely to run against Tymoshenko in the elections' second round.
The Facebook page for Zelenskiy's TV show features a picture of the Jewish comedian visiting a synagogue in Ukraine with friends, along with the caption: "the Jerusalem gang."
Zelenskiy is Jewish through both his parents and even lays tefillin. He visited Israel in the past as part of his television show and even speaks a few words of Hebrew. One of his famous sketch acts makes fun of an Israeli clinic in Kiev.