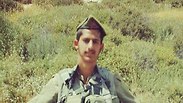 Sgt. Evyatar Yosefi
Photo: Facebook
A young soldier drowned in northern Israel early Monday morning during a solo navigation exercise for the Paratroopers Brigade's reconnaissance battalion, following heavy rain in the area. Three other soldiers were evacuated in light condition to local hospitals suffering from hypothermia.

Sgt. Evyatar Yosefi, 20, drowned in Nahal Hilazon near Karmiel in the early hours of Monday, hours after his solo navigation began in the Lower Galilee at 10pm Sunday. At around 4am, the soldiers were ordered to make their way to the end point. At around 5am, Yosefi and another soldier reached the Hilazon stream, which was between half a meter to one meter deep due to the heavy rainfall. The second soldier was able to reach the other bank, but Yosefi tripped for a yet unknown reason and was carried away by the current.




Yosefi apparently had time to tell the second soldier that he was slipping, and the latter threw a rope to him in an effort to pull him up, but to no avail.

The search for Sgt. Yosefi lasted an hour and a half, and he was eventually found by the Israel Air Force's 669 Search and Rescue Unit some 100 meters away from where he tried to cross the stream.

He was airlifted to the Rambam Medical Center in Haifa, but was pronounced dead on the way after resuscitation attempts failed.

Ground Force Commander Maj. Gen. Kobi Barak halted all navigation training, and GOC Central Command Maj. Gen. Nadav Padan ordered the formation of a team of experts, headed by Etzioni Brigade Commander Col. Oren Simcha, to investigation the incident.

"The weather conditions last night allowed navigation in that area," IDF Spokesman Brig. Gen. Ronen Manelis said. "According to the weather forecast, the rain was only supposed to start in the morning."

"One of the things being examined now is the state of the ground at the stream," Manelis said. "It's unclear whether the soldier was hit by something... This is a needless death, and we will draw the relevant conclusions from it."

The IDF said the training plan received the proper approval from officers in the Paratroopers Brigade, including brigade commander Col. Yaki Dolef.

Yosefi grew up in Tel Aviv and attended the Bnei Akiva yeshiva in Bnei Brak. The yeshiva said he was "a well-manner boy with a permanent smile, very beloved by his friends and teachers."

Yeshiva head Rabbi Moshe Tzvi Waxel said it was "easy to love Evyatar... he was always smiling and took on every task happily. He always offered his help to teachers, to the yeshiva and to his friends. Everyone knew they could count on him at every situation."