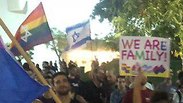 LGBT protests in Tel Aviv
A new position paper issued by the Israel Medical Association bars doctors from performing conversion therapy to "cure" homosexuality or referring patients to such treatment. The paper comes not long after a Ynet expose on the use of conversion therapy in Israel.

"There is a special danger in referring children and teenagers to treatment meant to change one's sexual orientation," the Israel Medical Association wrote of the phenomenon, which is mostly common among Israel's religious sector.

A complaint filed to the IMA's Ethics Committee against doctors who refer patients to conversion therapy could result in sanctions ranging from a reprimand to revoking membership in the organization.

"A comprehensive review of studies and position papers from other organizations showed an agreement that there is no place for any treatment based on the assumption that homosexuality is a disease or a disorder that requires treatment. The treatments to change one's sexual orientation have been found to be ineffective and could cause mental damage, such as anxiety, depression and suicidal tendencies," the position paper said.

Signatories to the position paper include the Israel Psychiatric Association, the Israeli Adolescent Medicine Society, the Israel Pediatric Association, the Society to Promote Health in the LGBT Community, the Israel Association of Family Physicians and the Israel Child and Adolescent Psychiatric Association.

Conversion therapy could also lead to social isolation and withdrawal, stated the paper, as well as to difficulties in achieving intimacy, difficulties in performing sexual intercourse, anger and distancing from parents and family, and many other possible outcomes.

The problems with conversion therapy go beyond the method itself. Therapists assigned to treat people are often professionally and legally unqualified to perform such treatments. "Besides the damage that these so-called treatments can cause, patients might also suffer the consequences of therapists with no qualifications. Furthermore, this exposes teens and children to abuse," said the paper.

According to the Israel Medical Association, people who suffer from mental conflicts should be treated by qualified psychotherapists only.

Nadav Schwartz, 36, is an activist in Jerusalem's LGBT community and has experienced this kind of false therapy. "I approached an organization called the Soul's Advice. They assigned me with a therapist who wasn't at all qualified, and told me that my father 'made me gay' and that after the therapy I will no longer be attracted to men."

Schwartz isn't alone, and helps others who have been through the same so-called treatment. "I know some men who were ordered to secretly stalk women and take their picture, or masturbate over pictures of women. Some suffered physical punishment, like being beaten, because they were attracted to men."

Chairman of the Israel Psychiatric Association, Dr. Zvi Fishel, said that conversion therapy has no real ability to influence one's sexual orientation. "I hope doctors will come to understand that if the refer a patient to this kind of therapy, they are breaking the association's ethical code."

Dr. Ruthi Gofen is co-founder of Gan Meir LGBT Center in Tel Aviv and one of the people who initiated the position paper. "We felt that the medical associations in Israel had to make their stance clear. These important guidelines can save lives," she said.