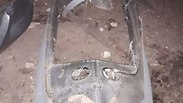 A canopy of the F-15 Falcon fighter jet
A canopy of the F-15 Falcon fighter jet that detached at 30,000 feet during a training flight last Wednesday, was found by a group of Palestinians in the town of es-Samu, south of Hebron. The canopy had been transferred to the Israel Air Force for further investigation in order to establish the reason behind the technical malfunction.

The two IAF pilots had to carry out an emergency landing following the incident but didn't lose the control of the plane despite being exposed to severe cold, strong winds and deafening noise.

The IAF are now examining possible reasons behind the malfunction, which could have originated from the canopy's pyrotechnical or locking mechanisms.

"The detachment of the canopy came as a surprise, as we had no prior warnings … the crew showed composure while operating in an extremely noisy environment. Despite that, the landing was done smoothly," said a senior IAF officer.

The pilots, a captain and a lieutenant, took off from the Tel Nof Air Base on Wednesday night and were heading south.

During the flight, the canopy detached and they reported the incident to the control tower at the Nevatim Air Base. The base was put on alert and prepared for an emergency landing.

They crew was instructed to slow the plane and descend as much as possible, while at the same time land as soon as possible. The landing was conducted amid immensely strong winds that made communication extremely difficult.

A senior IAF official said that in such conditions, a decision to eject would have been legitimate as well, but the two pilots realized they could land the plane without risking their own lives.

"During a routine training flight, an F-15 Falcon fighter jet had to land after its canopy detached. The plane's crew was in full control throughout the incident, acted with level-headedness, professionalism and great skill in handling the rare malfunction, and landed the plane safely at the Nevatim Air Base," said the IDF Spokesman's Office in a statement.

IAF Commander Maj. Gen. Amikam Norkin ordered to stop all training flights for F-15 Falcon fighter jets until an investigation into the incident is completed.