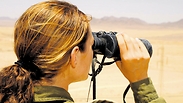 File photo
Photo: Yair Sagi
The High Court of Justice last week ruled that the Education Ministry will now be required to fund educational programs that help young women from the national-religious sector prepare for army service, just as it funds pre-military education programs for teenage boys.

Until now, pre-military schools for boys have been funded by the Ministry of Education, but similar organizations for teenage girls were underfunded due to the opposition of extremist rabbis.


Now, after the High Court ruling, the state will start funding pre-military education programs aimed at preparing young religious women to live in a diverse society and cope with the challenges it brings. In addition, the girls will have training sessions and classes with instructors from various establishments that have already successfully helped to integrate religious young women into the IDF.

The court ruling followed a petition filed against the ministries of Education, Defense, and Social Equality, as well as the IDF.

Following the petition, the Education Ministry published criteria for pre-military programs for national-religious girls.

According to Justice Neal Hendel, the head of the judicial panel, it is prejudicial for the state to subsidize pre-military education programs for boys but not for girls.

"We cannot close our eyes to the rising number of religious women serving in the IDF. If state-funded religious schools believe that it is necessary to prepare teenage boys for the challenges of army service, why not do the same for teenage girls?" Hendel said.

Hendel also addressed the halachic (Jewish law) objection of the Chief Rabbinate, which opposes the integration of women into the male-dominated IDF. "The halachic position regarding the service of women in the IDF is more complex and, just as there are rabbis who prohibit it, so there are rabbis who permit it," he said.

Amnon Lorch of Yigal Arnon & Co., the law firm that brought to the suit, expressed his satisfaction at the court ruling.

"The Education Ministry should be extra-cautious when it comes to discrimination against women, especially when they are teenage girls, and accept the fact that 4,000 girls from the religious-Zionist sector are a big part of our national strength," he said.